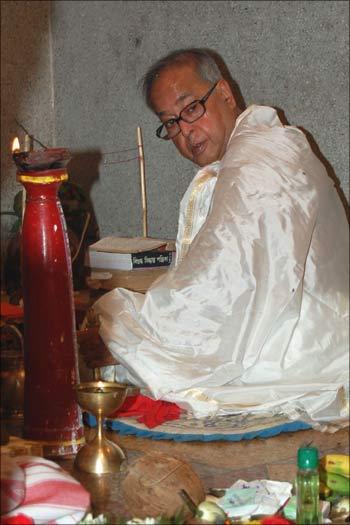 Like his boss Prime Minister Manmohan Singh, Finance Minister Pranab Mukherjee, the government's chief trouble-shooter, is deprived of the luxury of holidays.


But for the four days of Durga Puja, nothing can come between devoted Poltu, Mukherjee's nick name, and his ancestral home in village Kirnahar in West Bengal. Not only Mukherjee performs the Puja himself, reading out the Chandi shlokas, but also meets friends and relatives, who all come over for the four days of fun.


This year, Mukherjee has to curtail his US trip to join his friends and relatives at Kirnahar during the Puja. Mukherjee is in the US to attend a fund-bank meet.


Earlier, his schedule included travel to New York, Washington, and then flying down to Los Angeles to attend a Bengali community meeting -- where his fellow countrymen are meeting over Hilsa curry and Rabindrasangeet to ponder over the future of Bengalis.


When his trusted Private Secretary Manoj Panth came up with the tour programme, he quickly realised that he could not reach Kirnahar, about 210 kilometres from Kolkata, in time for the Pujas, as he would return only on October 14.


Immediately, he asked Panth to drop the Los Angeles leg from the tour schedule so that he could return to Delhi on October 10.


A few years ago, Mukherjee, the then defence minister, was in Kirnahar, when the Cabinet Committee on Security met in Delhi to decide India's stand regarding a sanction motion in the International Atomic Energy Agency.


Mukherjee was consulted over telephone as the PM felt it would not be proper to ask his key minister to skip the Puja and remain present in the capital.


Former US defense secretary Donald Rumsfeld once had to catch Mukherjee in Kirnahar during the Puja.


Though Mukherjee was the then defence minister in the first United Progressive Alliance government, Kirnahar didn't have excellent telephone connections.


Within a few hours, special telephone line was provided at Mukherjee's house and villagers still recall that a few Bharat Sanchar Nigam Ltd workers holding a telephone pole to keep it straight while Mukherjee received a call from Rumsfeld.


In 2008, the signing of the Indo-US Civilian Nuclear Agreement, too, was done keeping in mind the schedule of the Puja and Mukherjee's related engagement.


After much political tussle when the final stage was reached, Mukherjee reportedly rejected the George Bush administration's proposed schedule for signing the agreement, as it clashed with the Puja dates.


Finally, Mukherjee, the then external affairs minister, flew for almost 40 hours (spending just 12 hours in US) to reach Washington, sign the agreement with his US counterpart Condoleezza Rice and return to Delhi.


At Kirnahar, Poltu was right in time before the Puja started.


Image: Pranab Mukherjee all set to do the Chondipath. | Photograph: Dipak chakraborty