The country's largest fast moving consumer goods (FMCG) company gave its managing director & CEO a lower increase in salary in FY12 compared to the previous year, but Nitin Paranjpe of Hindustan Unilever (HUL) still walked away with a 23 per cent increase, taking his yearly pay to Rs 9.74 crore.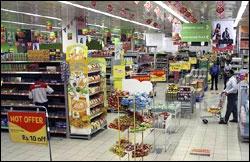 That's marginally more than the average pay increase of 22 per cent, the highest in the past three years, for his counterparts at other top FMCG companies. The average percentage rise in CEO salaries for companies such as HUL, ITC, Nestle, GSK Consumer and Dabur was 18 per cent in FY11 and 14 per cent in FY10, show data compiled by Business Standard Research Bureau.
The salary of Zubair Ahmed, MD of GlaxoSmithKline, shot up 32 per cent in FY12 versus four per cent in FY11. Nestle India Chairman & MD Antonio Helio Waszyk's salary increased 22 per cent in FY12 versus eight per cent in FY11, while Dabur CEO Sunil Duggal saw his salary move up nearly 22 per cent versus a drop of 20 per cent in FY11. ITC's Y C Deveshwar, in contrast, saw a more consistent 17 per cent increase in salary in FY12, versus 14 per cent in FY11.
Clearly, these CEOs were rewarded for the stellar performance of their companies in FY12. Sales for the year under review grew 15-20 per cent, as consumers continued to spend largely on essentials. In its annual report, HUL said, "The total reward package is intended to be market-competitive, with a strong linkage to performance, in line with the company's reward philosophy."
However, experts said, the CEOs could consider themselves lucky if they got similar increases in the current financial year, expected to be tougher as consumers cut back and downtrade, thanks to persistent inflation and patchy rains. In the past three years, rural FMCG sales in volumes grew about 15 per cent per annum, while urban sales grew around 10 per cent. But, rural sales growth for FMCG companies is down to about 10-11 per cent now from 15 per cent earlier.
"Typically, there's a lag effect in FMCG. While the slowdown in consumption will not show now, it will in a few months," says Harsh Mariwala, chairman & MD, Marico.
The other worry for FMCG companies will be agri-commodity inflation if the rains are deficient. "If rainfall is deficient, prices of agricultural inputs will shoot up," says Anand Shah, FMCG analyst at Mumbai-based Elara Capital.
Photograph: Amit Dave/Reuters