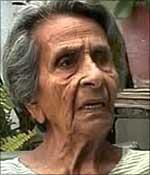 India's first woman photographer, Homi Vyarawalla, who was offered the 'Nano' on priority basis has decided to cancel her booking for the small car, after the company failed to keep its promise.
"I have written to the Tata Motors to cancel my booking," the 96-year-old photo journalist told PTI.
Vyarawalla was upset to learn that the company has already delivered 16 cars in the city yesterday, beginning with customers in Mumbai, followed by Ahmedabad and Vadodara and her name did not figure in this list.
"I had booked this car after the company wrote to me on April 9, and had deposited an amount of Rs 95,000 for its registration in my name after they assured the delivery within two months," she said.
The ace photographer had threatened to cancel  the booking if the car is not delivered to her within a week.
"I do not know how long I will live. . . I find it difficult to do anything without the car..It is not a luxury but a necessity for me.. Everybody keeps on enquiring about the delivery and it hurts me as there is no communication from the company in this regard," she had said.
However, the local Tata Motors dealer said that he was unaware of the promise given to her.
Vyarawalla, who lives in Nizampura locality, disposed of her 55-year-old Fiat car, imported from Italy to a relative in Mumbai this January after non-availability of spare parts.
She has clicked photographs of late Prime minister Jawaharlal Nehru, late Indira Gandhi, Feroz Gandhi, late Vijaylaxmi Pandit, Lady Mountbatten, Morarji Desai and other dignitaries from India and abroad.
Image: Homi Vyarawalla