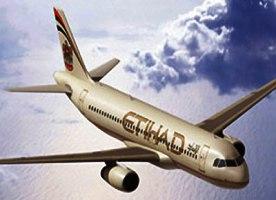 Abu Dhabi-based Etihad Airways on Thursday announced it would double its flights to Mumbai and Delhi by the end of December.

This follows the Union Cabinet approving enhanced traffic rights between India and Abu Dhabi.

Etihad is acquiring 24 per cent stake in Jet Airways; the deal is awaiting regulatory approval.

Sources said Jet was likely to connect various cities, including Bengaluru, Chennai and Hyderabad, to Abu Dhabi in the next few months,
though it was unlikely to start new routes beyond Abu Dhabi in the winter schedule.
"Following the recent signing of a new air services agreement between India and the UAE, we now have the opportunity to add significant capacity between the two countries, not only meeting existing demand for trade and tourist travel, but also ensuring we meet the continued strong growth expected between the two countries.
"The big winners would be our passengers and freight customers, as well as the economies of India and Abu Dhabi," Etihad chief executive James Hogan said in a statement.