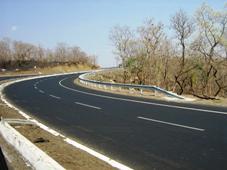 A proposal is being put in place for providing 100 per cent government funding to developers so as to rescue the highways sector, where there are few takers because of severe equity crunch, economic survey said on day.

As a new initiative for promoting highway development, the mode of engineering procurement and construction contracts is being brought in, it said.

"To overcome the economic slowdown in this sector, the Ministry of Road Transport & Highways has finalised a proposal for awarding projects under new modified turnkey EPC mode under 100 per cent government funding in cases where there are no takers under BOT (toll) mode," said the Economic Survey 2012-13, tabled in Parliament.

This mode of delivery will also take care of cost and time overruns.

The ministry has pinned all hopes on EPC mode for road projects as it has been able to award just around 1,000 km of projects, as against the target of 9,500 km for this fiscal ending next month.

Under the EPC model, the government spends the entire money required to build roads so as to attract builders who are shying away from highways projects for want of funds.

Of late, financing of road projects has run into difficulty as leveraged companies implementing road projects are unable to raise more debt in the absence
of fresh equity amid major players such as GMR and GVK recently announcing exiting from some schemes.
The Survey also suggested easing exit norms for developers: "In current market conditions, these firms are unable to raise new equity.
"Exit route needs to be eased so that promoters can sell equity positions after construction, passing on all benefits and responsibilities to entities that step in."
Promoters can use the equity thus released for new projects, it said adding: "Steps are also needed to up-scale projects in PPP mode for achieving the targets envisaged for the development of roads in the Twelfth Plan."
As of December, six sectors, including roads accounted for about 80 per cent of all stalled projects, and as many as 86 the total 146 projects were delayed.
Detailing steps to boost the sector, the survey said the National Highways Authority of India Board has approved formation of a high level expert settlement advisory committee for one-time settlement of old cases pending in courts.