A recent incident in which debris fell off a Boeing 787 Dreamliner's engine during a pre-flight test in the US has led Air India to convey to the manufacturer that it would take deliveries only after the cause of the mishap was established and rectified.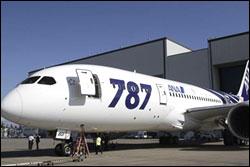 This was one of the planes being readied for Air India that has ordered 27 of them, official sources said. Under the 2005 deal, the American manufacturer was to hand over the first of these state-of-the-art aircraft in September, 2008.
This has been delayed by nearly four years.
The national carrier has conveyed to Boeing that it would "not take deliveries till we know the root cause of the problem, how the (787) fleet is getting affected and faults, if any, rectified," they said.
No one was injured in the July 28 incident which set ablaze grass leading to closure of the only runway at Charleston International Airport in South Carolina for over an hour.
Following the incident, the US National Transportation Safety Board (NTSB) launched a probe after Boeing and engine manufacturer General Electric notified it that a Boeing 787 experienced an engine failure during a pre-delivery taxi test, an NTSB statement said.
According to media reports, the General Electric's GEnx turbofan engine, destined for Air India, sparked the grass fire. The plane, fitted with the same engines, is now being operated by Japan Airlines (JAL).
The incident involved the second of three Dreamliners that have rolled off Boeing's new assembly line in Charleston, the reports said.
It came roughly a week after another Japanese carrier, All Nippon Airways, grounded its five Rolls-Royce Trent 1000-powered Boeing 787s following the manufacturer's discovery of corrosion within an external gearbox.