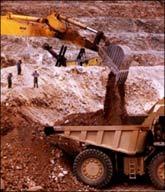 National Mineral Development Corporation (NMDC), the Hyderabad-based public sector undertaking, is the first PSU to come up for divestment during the current financial year.
Sources said that the government plans to raise an estimated Rs 12,000 crore (Rs 120 billion) through the divestment of its 8.33 per cent stake in the company.
The move is likely to bring some cheer to the finance ministry as the proceeds of the sell off would finally add to the government exchequer.
The Union ministry of steel has readied a proposal for the divestment of NMDC, and the actual sell-off process, once approved, will taken up by the Department of Divestment to work out the nitty-gritty.
Sources said that before the steel ministry sent the divestment note ahead, care was taken that all the guidelines put in place by the Securities and Exchange Board of India were strictly adhered to. According to listing norms, the PSU should have been in the market for a specified period and should also have at least 20 lakh (2 million) shares, with at least 10 per cent of the share in the floating market.
Politically, NMDC is a soft target as its divestment is not likely to result in any objections from the United Progressive Alliance government's allies.
The government seems to have treaded very gently over the issue, in any case. Since the UPA stands on firm ground when it comes to Andhra Pradesh, it was an easy task to decide on the sell-off of NMDC.
Sources say that if -- for instance -- the Neyveli Lignite Corporation or any other PSU in Tamil Nadu was worked out for divestment, the Congress' ally -- DMK -- would have vehemently objected to it. IN 2006, the DMK had gone to the extent of withdrawing support to the government over such an initiative.
Keeping that in mind, Finance Minister Pranab Mukherjee was astute enough not to mention the name of any PSU in his Union Budget speech, while stating that some amount of money would be raised through divestment.
The government is much more stable now and even if the Left parties oppose the sell-off strategy; the agitation is not likely to disturb the Congress very much.