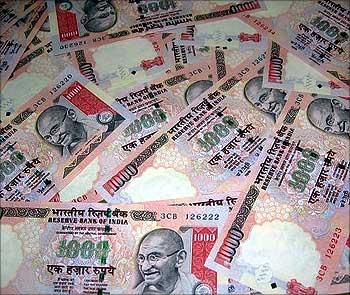 Divestment of public sector companies gathered steam in the first year of UPA-II that saw two PSUs-- Oil India and NHPC-- raising around Rs 8,600 crore (Rs 86 billion) from IPOs and the way was cleared for divestment in three more state-run power companies in the new year.
2009 saw the government relaxing a rule to pump proceeds from divestment directly for social schemes. This was because its fiscal deficit has already widened over 6 per cent of GDP due to duty cuts and increased expenditure as part of stimulus packages given to spur the economy in the face of the global financial meltdown.
Free from the bickering of the Left parties, the UPA-II came out with clear-cut policy on divestment, asking all profitable listed PSUs to have minimum public holding of 10 per cent and all profitable unlisted PSUs to hit the capital markets. This makes around 60 PSUs eligible for divestment.
The listed CPSUs that are making profits and have public holding of under 10 per cent include trading firm MMTC, mining major NMDC, Neyveli Lignite Corporation, Engineers India, State Trading Corporation, Rashtriya Chemicals and Fertilisers, National Fertilisers and Andrew Yule.
At present, the public holdings in these companies range from 0.67 per cent in MMTC to about 9.6 per cent in Engineers India.
While, unlisted and profitable CPSUs include big names like BSNL and Coal India among others.
In October, the Cabinet approved Divestment in two state-run power utilities -- NTPC and Satluj Jal Vidyut Nigam.
The Cabinet Committee on Economic Affairs gave its approval to five per cent stake sale in NTPC and 10 per cent in Satluj Jal Vidyut Nigam.
Besides, the government has also cleared 20 per cent follow-on offer of Rural Electrification Corporation that is expected to fetch about Rs 3,300 crore (Rs 33 billion) at the ruling market prices.
These three power PSUs are expected to be listed between January and March, 2010.
The government has also given the nod for divesting an additional 8.38 per cent stake in iron ore producer NMDC while a per cent share sale proposal in PSU steel maker SAIL will be taken to the Cabinet by mid-January next year.
However, the real test of the UPA Government will come at the time of divestment of wholly owned state-run company Coal India, since it is headquartered in Kolkata and Trinamool Congress does not appear to be too supportive of the entire divestment policy of the incumbent regime.
What will happen, if this issue came up for the Cabinet discussion? Will Railway Minister Mamata Banerjee stall the whole divestment process as was done by DMK over Neyveli Lignite Corporation in the previous regime.
Only time will tell this, but one can easily guess that if the divestment of CIL is not done in 2010, opposition against it will be much more aggressive in the next couple of years since West Bengal is scheduled to go to polls in 2011.
Coal India is pushing for 15 per cent divestment in view of parking some shares for employees and the land losers.
It hopes to get Cabinet nod within this fiscal and it will be listed in the next financial year.
To a query whether the opposition by Trinamool Congress would mean that PSUs located in West Bengal would not be on the priority list of stake sale, divestment secretary Sunil Mitra said there was no such guidance from the government.
In the year 2009, public sector hydro power generator NHPC and Oil India got listed on stock exchanges, raising Rs 6,000 crore (Rs 60 billion) and over Rs 2,600 crore (Rs 26 billion), respectively.
However, NHPC scrips are trading below the issue price of Rs 36 even though it listed slightly above, fuelling the issue of pricing of PSU public issues.
When asked about this, Mitra said the scrip is a long-term stock. All PSU shares listed in the past few years are ruling at above their listing prices, except for NHPC, he said.
Oil India was listed on September 30 at Rs 1,096, Rs 46 higher over the issue price of Rs 1,050 but closed the day at a hefty premium of 8.62 per cent at Rs 1,140.55 on the BSE.
Whatever doubts remain on divestment front like issue pricing and divestment of CIL, credit must be given to the UPA government for making it pretty clear in the beginning itself that it will not divest its equity below 51 per cent.
In fact, Finance Minister Pranab Mukherjee said the government does not seek to divest more than 10 per cent in state-run firms for now.
On expected earnings of one of the three power PSUs-- NTPC, Mitra said he expects about Rs 8,100 crore (Rs 81 billion).
"We anticipate more than three times what we got last time (at the time of IPO in 2004)," he said.
In 2004, NTPC raised about Rs 2,700 crore (Rs 27 billion) through the IPO when the government diluted 5.24 per cent stake, he said.
However, power secretary H S Brahma's estimates are lower than those of Mitra. Brahma said the government plans to raise Rs 5,000-6,000 crore (Rs 50-60 billion) from NTPC issue.
He also said the government plans to raise Rs 4,000-5,000 crore (Rs 40-50 billion) from Rural Electrification Corporation issue and Rs 2,500-3,000 crore (Rs 25-30 billion) from SJVNL.
According to Brahma, NTPC's follow-on offer is expected to hit the market in January, trailed by REC and SJVNL in March.
Mitra said the divestment department is in talks with administrative ministries of the 60 CPSUs.
"We are in interaction with the Ministry of Steel for SAIL, we are in interaction with communications ministry on BSNL. We are in interaction on a large number of these 60 companies with their administrative ministries. We are in interaction with them but it does not mean that we are close to divesting them."
Recently, the finance ministry asked 32 nodal ministries to identify state-run firms where the government stake could be sold and asked them to reply by the end of this month.
"We have written to 32 secretaries of nodal ministries to identify the PSUs for divestment. These include various ministries across the sector. We have asked them to respond by the end of this month," a senior divestment department official said.
The government has also changed the criteria of using the proceeds of divestment for three years. The proceeds for three years would go to National Investment Fund (NIF) and will be available in full for investment as capital expenditure in social sector schemes determined by the Planning Commission and Department of Expenditure.
Now these funds will also go to NIF, but returns on these funds, not the funds themselves, are used for social welfare schemes and revival of PSUs.
The government said the status quo on NIF will be restored from April 2012.
However, Planning Commission Deputy Chairman Montek Singh Ahluwalia said the proceeds from sale of government shares in public sector undertakings should be utilised for new investment projects.
"First of all we should be aggressive and secondly it (proceeds from divestment) should be used for new investment," he said.
Divestment of some of unlisted 50 PSUs would not only make them accountable, but would also give them and the government much-needed resources which will now be used for social welfare schemes for three years.
However, the government should come out with a roadmap for listing these shares soon, so that the investing public know what exactly is the offer for them for the next few years.