After having failed to stump up the cash for an event cancellation policy of Rs 713 crore (Rs 7.13 billion), the organising committee of the Commonwealth Games in Delhi has decided to take a limited cover, with a total sum assured of Rs 140 crore (Rs 1.4 billion).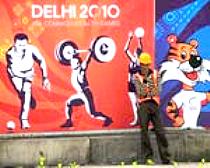 Generally, an event cancellation policy pays for the revenues earned from the games or the event in case of termination. Since CWG is expected to generate a revenue of Rs 713 crore (Rs 7.13 billion) from sponsors, advertisers and ticketing, a policy of Rs 140 crore (Rs 1.4 billion)would not be enough, insurance industry experts said.

For the limited policy, which will cover cancellation due to natural calamities like rains, earthquake and riots, the committee will pay a premium of Rs 6 crore (Rs 60 million). The cover will not pay in case of postponement of the games or cancellation due to death of the (British) Queen or a political leader.
An insurance executive said, "Initially, the committee had a budget of Rs 80 crore for insurance, which was brought down to Rs 50 crore (Rs 500 million) , and then to Rs 26 crore (Rs 260 million). It has finally decided to take a policy for Rs 6 crore (Rs 60 million) ."
"The organising committee will not be reimbursed if, say, the opening ceremony is cancelled. While in the earlier policy, everyday events were insured. They have agreed to pay Rs 6 crore, which they can buy even a day before the games starts, as it is within the capacity of Indian insurance industry," said a source associated with the deal.
The four state-owned non-life insurers -- New India Assurance, United India, National Insurance and Oriental India -- have the capacity to write a policy of Rs 140 crore (Rs 1.4 billion) without any reinsurance support. Apart from this, the four insurers can also provide Rs 100 crore (Rs 1 billion) cover against terrorist attack. By current regulations, insurance companies are stipulated to park at least 10 per cent risk with the national reinsurer, General Insurance Corporation.
Citing high risks, reinsurer Lloyd's Syndicate has withdrawn the terrorism part from the event cancellation policy after the firing near Delhi's Jama Masjid.
The committee has taken five other covers -- directors' and officers' liability, group personal accident for organising committee staff, for athletes, volunteers and spectators. It has paid a total of Rs 11 crore (Rs 110 million) to state-owned Oriental Insurance for these five policies.