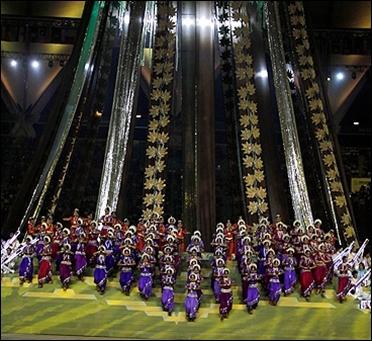 The opening ceremony of the Commonwealth Games (CWG) 2010 has saved the day for Suresh Kalmadi and company. A record 29 million viewers tuned in to watch the telecast on Doordarshan on Sunday.
By comparison, around eight million viewers across the top six metros had watched the opening ceremony and the first match of the third edition of the Indian Premier League (IPL-3) cricket tournament on March 12.
According to data with aMap, a television viewership monitoring agency, television ratings (TVRs) for Doordarshan peaked to 4.7 points at the commencement of the ceremony.
TVRs represent the percentage of the audience over 15 years of age, who watch a programme for a stipulated period of time.
For the entire ceremony, average ratings were 2.8 points, with viewers spending on an average of 48 minutes watching the telecast. While BBC declared the viewership numbers to be equal to those for the opening ceremony of the Beijing Olympics, Sky News evaluated the reach and viewership to be better than the latter.
This clearly makes the opening ceremony of CWG the most watched sporting event in the country this year.
While 7.6 million people had watched the opening ceremony and the first match played out between Deccan Chargers and Kolkata Knight Riders on March 12, for the ICC World Cup Twenty20 the reach declined to 5.3 million for the opening match (April 30) between India and Afghanistan.
This despite the World Cup being telecast on STAR Sports, a pay channel, as well as on DD National, which is free to air and available to viewers having an iron antenna on their roof. The TVR for the match on both STAR and DD was 1.1.
Ratings had remained low for the hockey World Cup, too, with the opening match played out between India and Pakistan on February 28, drawing a TVR of 1.9 on Doordarshan.
Football fans in India were slow in catching up on the frenzy during the FIFA World Cup this year, with around 29,000 people less turning to their TV sets during the opening match between South Africa and Mexico as compared to the viewership numbers for the opening match of the 2006 edition.
As many as 1.971 million Indians had watched the opening match between Germany and Costa Rica in 2006, as compared to the 1.942 million people who tuned in to the opening match of the FIFA Cup this year.
Doordarshan has the exclusive rights to telecast the Commonwealth Games, in high-definition as well as standard definition formats. It is airing it on five channels - DD National, DD Sports, DD India, DD Bharati and DD Urdu.