In a new anti-corruption drive, Central Vigilance Commissioner P J Thomas has ordered scrutiny of all high-value projects executed during the past three months since he took over, seeking their details from all union ministries.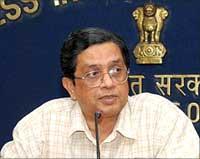 The chief vigilance officers attached to the ministries have been told to furnish within 30 days details of all such projects "immediately" and ordered "strict compliance" in giving details of all contracts, including tenders and civil works done.

The details sought include contractor details, payments made, third-party examination report and the tender documents issued or signed in the past three months.

Also sought are mandatory completion certificates, security bonds, insurance policies, material equipment and details of pre-contract negotiations.

The CVC sources said Thomas wants to put under strict scrutiny the infrastructure projects of roads, energy, power, information technology and telecommunications.

The ministries have been asked to give details of any contracts that are valued at more than Rs 2 crore (Rs 20 million).

They said the projects will be randomly chosen for inspection of the works.

There was a little confusion in the CVC office over Thomas wanting details of only those projects dealt in the last three months until Thomas said that he wants to start the job of dealing with only those acts that were committed after he became the CVC.