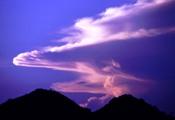 The country will receive normal rainfall this season, the weather office announced today much to the relief of millions of farmers who had to face the brunt of a drought last year.
Rainfall during the June-September south-west monsoon season is expected to be 98 per cent of the long period average, the India Meteorological Department said.
LPA of southwest monsoon rainfall averaged over the country as a whole is 89 cm. It is the mean of rainfall between 1941 and 1990.
The forecast has a model error of five per cent.
The forecast for better rains this seasons comes after India witnessed one of the worst droughts in recent times when the monsoon had failed last year.
A normal monsoon is necessary to power the Indian economy as over 235 million people depend on agriculture for livelihood. Last month, Geneva-based World Meteorological Organisation said El Nino had peaked, but was expected to influence climate patterns up to mid-year before dying out.
El Nino, a key parameter in monsoon prediction, is an occasional seasonal warming of the central and eastern Pacific Ocean that upsets normal weather patterns from the western seaboard of Latin America to east Africa.