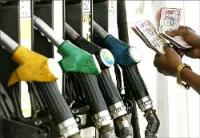 Frayed tempers and altercations over short measurement at petrol pumps may soon become a thing of past with public sector oil marketing companies taking up automation of the fuel dispensers.
The move is aimed at providing better service to the customers who can verify whether they have bought right measure of fuel in return for their money.
According to Ashok Badhwar, President, Federation of All India Petroleum Traders, the apex body for petroleum pump station owners and retailers, the oil marketing companies have begun the process of automation of petrol pumps.
"It will largely benefit the customers. They will be able to know how much petrol has been supplied to them at a petrol pump," Badhwar said.
He said the OMCs were implementing the automation process in all the petrol pumps in metros.
Indian Oil Corporation Chairman and Managing Director R S Butola had recently said his company was taking up the process of automation of its retail stations to improve services.
The company, which has earmarked Rs 14,000 crore as part of its capital expenditure plans for this year, owns about 19,000 fuel stations across the country.
In the first phase, IOCL planned to automate 1,600 petrol stations in the country.
Badhwar said besides IOCL, Bharat Petroleum Corporation Ltd and Hindustan
Petroleum Corporation were also in the process taking up automation of their petrol stations.
"This is mainly to serve the customer well. Suppose, if a customer has filled petrol for Rs. 500 and has raised concern whether he was supplied the right quantity, he can check it.
"Including the time, date and along with his vehicle registration, the quantity of fuel supplied to him will be known", Badhwar said.
According to him, the move was being taken mainly to avoid "malpractices" in petrol pump stations.
On addition of petrol pumps, he said the federation was completely against this move as it was affecting the volume of existing outlets.
"As long as oil companies are not making profits and dealers are not earning substantial revenues, no new petrol pumps should be allowed to open. Oil marketing companies are violating the norms of Petroleum Ministry," he said.
Giving statistics, he said in 2003 there were only 10,200 petrol pumps in the country. But in 2010 it grew to 35,700 outlets and now it has gone up to 40,700.
"Last year alone around 5,000 new petrol pumps (belonging to OMCs) were opened in the country," he said.
Referring to incidents of petrol outlets being targeted by anti-social elements across the country, he said the OMCs should come forward to provide subsidy for putting in place a security system.