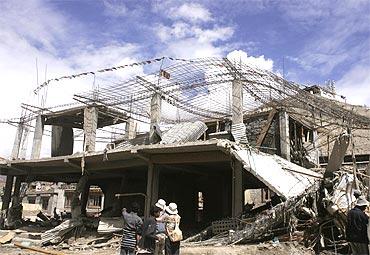 The devastating cloudburst not only caused an unimaginable human tragedy, but a massive economic disaster in this tourist paradise, where re-building the damaged infrastructure may take a minimum of two years.
Almost all culverts and small bridges in the district along with roads and irrigation facilities and micro-hydel projects have been badly damaged.
Communication links have been uprooted, thousands of people have been left homeless after their houses got washed away and from shops to vehicles, everything has been destroyed in the August 5 cloudburst and flash floods.
The revenue department of the state has already began painstaking efforts to gauge the extent of economic damage.
"What we feel is that 40 per cent of our infrastructure -- irrigation canals, link roads, bridges has been completely destroyed.
Another 40 per cent has been partially damaged. May be 20 per cent is intact," Ladakh Autonomous Hill Development Council chairman Chering Dorjay told PTI. He said the floods severely affected the agriculture.
"It is very difficult for us...we had a standing crop. All the irrigation canals have been washed away.
"In some places, the nallahs have become as much as 20 feet deep."
Even at a rough estimate, it will take a minimum of two years for the district to be rebuilt and this would involve thousands of tonnes of cement, steel and other construction materials, officials said.
Dorjay said the requirements of the Leh Autonomous Council prior to the tragedy were a whooping 18,000 truckloads of cement, steel, bitumen and pipes for routine work.
"And this did not include stockings in the market by shopkeepers.
"We have hardly lifted 8,000 truckloads because of the curfew in Srinagar. Now because of this tragedy, the demand will go up," he said.
Giving an estimate of the amount of time that it will take to complete reconstruction works, Dorjay said, "We lost micro-hydel networks which will take two years to complete."
Even for the construction activity to start, the flooded parts of the district has to be cleaned up but it will take months to complete it, local officials said.
A walk through the affected areas of the district like the Leh city, Choglamsar or Saboo village gives an insight into the extent of damages.
Heaps of cars could be seen smashed into houses, two-storeyed buildings completely submerged under slush, electric poles uprooted, people trying to pull out whatever little belongings that they can lay their hands on.
The authorities are waiting for the two main highways to open up so that heavy equipment could be brought in for cleaning up process.
It is clear that the economic cost of the disaster may run into several hundred crores if one takes into account the damage to both public and personal property.
Image: The rubble of houses destroyed by flash floods in Leh. | Photograph: Yawar Nazir/Reuters