Lamenting what they described as the "sad and irreparable loss" and the "untimely demise" of management guru C K Prahalad, Indian American corporate heavyweights in interviews with rediff.com, recalled fondly how he always found time for the community's initiatives and was on hand to mentor young Indian American entrepreneurs and start-ups be it as a TiE (The Indus Entrepreneurs) or an IIT (Indian Institute of Technology) alumni parley and other forums where he was a much sought-after keynoter.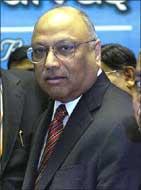 Erstwhile chairman and CEO of Citibank and former vice chairman of CitiGroup, Victor Menezes, said, "CK had an original mind and he had a very creative way of looking at things. And, he was able to synthesise his concepts in a manner that made sense and was practical for people to use."
Menezes, currently senior adviser with New Silk Route Partners, LLC, an international private equity firm and chairman of the America India Foundation, said, "I've known him for many years and would meet him on many occasions and I thought he was always a very original and interesting person. He really expanded the boundaries of management thinking, and not just here in the US but among European corporations, he had a very big impact."
"He was always very supportive of the community and I saw him at several TiE functions and at these functions he would really give of his time and help develop the community here. He was extremely accessible and such a wonderful person."
Menezes acknowledged that while Indian Americans are renowned and recognised for their contributions to medicine, science, engineering and technology, "there is no denying that he was the pioneer among Indian American management experts and set the trend for so many others to follow -- many of whom were his students or those who had mentored or help set up."
"He was definitely the one person who put Indians on the map in terms of management and finance, and I can't help but repeat how very active he was in TiE and he was the real mentor to a number of individuals in the TiE network and he was always supporting young entrepreneurs who were setting out over here."
Menezes, vice chairman of the Asia Society and Catholic Charities and chairman of the executive committee of the Eisenhower Fellowships, said that "CK was not an ivory tower professor."
"He was a great man and his passing at just 68 is such a huge loss. He had so much more to contribute," he added.
Sudhakar Shenoy, founder, chairman and CEO of IMC, Inc, a Reston, Virginia-based business solutions and technology provider to the federal government, business, health and life science sectors, and the only Asian American thus far to have been the chairman of the Northern Virginia Technology Council, echoing his fellow Mumbai-IIT'an Menezes' sentiments, said, "There is no doubt, CK was the management icon, the trailblazer for so many other management experts."
"I knew him primarily through TiE for several years and he was one of the keynoters for our 2005 Pan-IIT Alumni conference here in DC."
Shenoy, himself a mentor to the likes of Aneesh Chopra and Vivek Kundra, chief technology officer and chief information officer respectively in the Obama White House, reminisced, "And, he (Prahalad) was such a nice guy too -- he had no airs about him for all he had achieved and the aura that surrounded him. He never wore this on his shoulder as some guys who've hardly achieved a fraction of what he's achieved, seem to do."
"I remember when we were organising the Pan-IIT Alumni Conference in DC (Shenoy was co-chairman along with former Mckinsey chairman Rajat Gupta), Suresh (Shenoy's younger brother and also a Mumbai-IIT alumni who was organising the speakers and panelists) came to me and asked me if I could call CK and request him to be the keynoter."
"I called CK and invited him to be the keynote speaker on one day of the conference and he immediately accepted. There was nothing like, 'I'll have to think about, or let me get back to you and all that stuff.' He said he would be there, and if I remember right, he didn't even ask for anything although we could have always organised a hefty speaking fee for him and nobody would have grudged it because he was such a star."
Shenoy said, "Even with TiE, he was always willing to give his time for the community, and I remember, during the TiE get-togethers, he was the most popular guy and would be mobbed by these young entrepreneurs and they would hang on to his every word."
"And, he willingly spent time with them and he would always speak to these youngsters -encouraging them, giving them a boost, a contact. He was just incredible. He was involved in so many start-ups, advising little guys."
Shenoy reiterated that "and he never asked anything in return. You could call him and run ideas by him and he was very open."
"My best memory of him was, a few years ago I was traveling to India and I was waiting in the lounge and he and his wife walked in and they were also going to India by the same flight and we ended up spending several hours, just chatting about his viewpoints and he was just such a fascinating man. This was one time I really got up close and personal with CK and he was just brilliant -- nothing short of it."
Shenoy declared that "he was definitely a guru and what a great representative for the Indian community in the mainstream management and finance world -- not just here but all over the world. Someone, who could really see the big picture."
"He really enhanced the prestige and image of our community and he was the trailblazer to all the big names in the Indian American community in management since then."
Shenoy said, "All our new management gurus in recent years and deans of various business schools were basically helped by CK in that field. He was the go-to guy when you wanted some superb advise, and he was at one-time I believe rated number one in the world and in the same caliber as the legendary greats in the management world like Peter Drucker."
Ranvir Trehan, another leading information technology entrepreneur and a venture capitalist, who alma mater was the University of Michigan, recalled, "I got to know CK very well several years ago when we were in the throes of establishing the India Initiative at the University of Michigan."
Trehan, crediting the University of Michigan as the springboard of his good fortune, along with his wife Adarsh as part of the Trehan Foundation, donated $1 million to his alma mater to encourage current and future collaborations between the University and India as part of the India Initiative in which Prahalad played a major role.
"Since we met and became friends after establishing the India Initiative, we would meet often and had several discussions and would brainstorm on how we could eradicate poverty and the role of multinational corporations in this effort," he said.
Trehan said, "After each encounter with him I would come away amazed at what a brilliant thinker he was and of course, he was such an articulate speaker and his books speak for themselves. His work on corporate core competence and the bottom of the pyramid were seminal."
"It is such a huge loss for the Indian American community as well," he added.