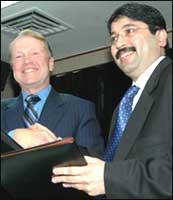 IT and telecom networking company Cisco Systems on Wednesday announced a $1.1 billion investment in India over the next three years, a bulk of which would be for beefing up its research activities.
"We will invest $1.1 billon in India over the next three years. It will be the largest investment announced by Cisco outside of the United States in scope of activity and size," Cisco President and Chief Executive Officer John Chambers told newspersons in New Delhi.
Cisco's three-year expansion plan in the country will direct investments in the following areas:
$750 million will be allocated to research and development (R&D) activities, including training, development and staffing over the next three years. Cisco's own R&D activities will be complemented by work done by Indian strategic partner companies.
$150 million will be dedicated by Cisco Systems Capital -- a division of Cisco Systems Inc -- to provide leasing and other financial solutions to Cisco customers and partners.
$100 million in venture capital will be earmarked by Cisco to invest in Indian start-up companies.
$100 million will be invested in customer support operations - a significant portion of which will be allocated for technical services, spare parts depots and channel development.
"Cisco Systems Capital will be investing in companies working on networking technology," Chambers said.
While the thrust of the company in India is research, it is also open to manufacturing some of its products here.
"In next two months our manufacturing people will come down to India to examine that possibility. We can expect to firm up our view on manufacturing by next year," he said.
Chambers said if the company starts manufacturing in India, it would be in the low-end to start with.
"If Cisco moves to India, many networking companies who are our partners will also come here," he added.
The company has so far invested in excess of $400 million in India. "In 2001, we had announced an investment of $200 million in India and we have already invested $400 million," he said.
Cisco has 1,400 people in India at present, while its four technology partners have 2,100 more people working on its technologies. "This total number will triple in the next three years," Chambers said.
He said the company's intention was to develop more and more products in India. "The research and development in India would not be on specific products but will be broad-based," he added.
Cisco has shown a growth of 50 per cent in India over the least two years. "In the next three to five years, we have a target of more than 30 per cent growth. India has a good chance to emerge as the largest market for Cisco in whole of Asia," Chambers said.
Chambers discussed Cisco's investment plans in India with the Prime Minister Manmohan Singh and Minister of Communications and Information Technology Dayanidhi Maran while in New Delhi on Wednesday.
"Through the wisdom of its government leaders and the entrepreneurship of its private sector, India has rapidly risen to become a major force in the global economy," said Chambers.
"Cisco believes that the Internet, and related technologies, will be a key enabler for India to achieve its goal of becoming a developed nation. As Indian companies strive to be globally competitive, they have realised the importance of investing in information technology and networking to adapt quickly to rapidly shifting market transitions," he said.
"A year and a half ago, Cisco recognised this inflection point in the Indian market and made several strategic investments, which are paying off today. Cisco in India is truly a global success story," he added.
The Indian networking market has grown rapidly in the last few years, fuelled by liberalisation, market reforms and telecommunications deregulation.
In order to better service the needs of Indian customers, eighteen months ago Cisco India formed five separate vertical business groups: IT services, enterprises, service providers, government and defence, and SOHO/consumer.
Cisco first established operations in India in 1995 and today employs over 1,400 people in the country in its Global R&D centre in Bangalore and offices in New Delhi, Mumbai, Bangalore, Chennai, Kolkatta, Pune, Hyderabad and Colombo, Sri Lanka.
The company also committed to expanding the Cisco Networking Academy Program in India.  There are currently 141 networking academies across 22 states and Union Territories in India and the program will be extended further within each state and Union Territory by 2006.
Additional inputs: PTI