State-run City and Industrial Development Corporation (Cidco) plans to issue a request for qualification (RFQ) for the Navi Mumbai international airport by mid-July.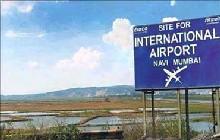 This would be possible only after the steering committee of the civil aviation ministry gives its approval after its meeting, to be held in the first week of July.

The construction work is expected to begin early next year. Cidco is a nodal agency appointed by the Maharashtra government for the Rs 8,722-crore (Rs 87.22 billion) project.

"Issuing RFQ is yet another important milestone. This will be done in the middle of July once the steering committee of the civil aviation ministry at its ensuing meeting gives its approval. The Ministry of Environment and Forests (MoEF) had cleared the project on November 22 last year, while the steering committee had cleared the master plan of the project in May," Cidco's acting managing director Tanaji Satre said.

The MoEF clearance came with 32 riders, though.

Industry
sources said domestic companies like GMR and Reliance Infrastructure and some foreign players were expected to pick up RFQ.
The Cidco official said the project, which would come up through private-public-partnership, would be implemented in four phases.
The first phase is expected to be completed in 2014 to handle 10 million passengers annually. The airport will have one runway, two taxi ways, 15 contact gates and a passenger building.
The remaining three phases would be functional by 2017, 2025 and 2031 respectively. By 2025, when the second phase would be operational, two runways would become functional.
By 2031, the airport would be able to handle 60 million passengers annually. The airport would be located on 1,140 hectares.
The official said Cidco had already worked out a comprehensive plan to meet the 32 conditions laid down by MoEF.
Cidco has agreed not to divert the river Gadhi and 678 hectares of mangrove plantation would be developed around the new site to replace 161 hectares that would be destroyed during construction.