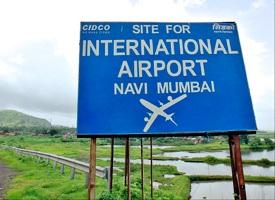 Notwithstanding opposition from some villages to the Rs 14,500-crore (Rs 145 billion) Navi Mumbai airport, the implementing body, Cidco, has decided to go ahead with the project and would issue 'request for qualifications' on February 5.
City and Industrial Development Corporation (Cidco) chairman Pramod Hindurao said, "The project has received all the clearances from the ministries of civil aviation and environment. The state has also offered a rehabilitation package to the project affected people and most of them have accepted it.
"Since all this is in place, we have decided to go ahead with the project and will invite RFQs on February 5." The project will come up at Ulve village near Panvel in Navi Mumbai area, and will provide an alternative to the Mumbai international airport. The government is expecting participation from global players.
Admitting that some locals are still opposing the rehabilitation package, he said, "We feel they too will accept the package."

Prime Minister Manmohan Singh had said earlier this month that the pending issues had been resolved.
Residents of six villages in the region are still opposed to the package offered by the government. Land to be acquired from this villages is 457 hectares. The airport, conceived 27 years ago, has been held up due to issues relating to land acquisition and environment.
After several months of hectic negotiations, the project-affected persons (PAPs) finally agreed to Maharashtra's offer of 22.5 per cent of developed land for every hectare of land acquired.
The government has also agreed to offer one floor space index (FSI) for 12.5 per cent of developed land and 2.5 FSI for another 10 per cent. Further, the PAPs would get three times more land to the current residential plot they occupy.
Of the 2,268 hectares required for the airport project, 1,572 hectares is already in Cidco's possession.
The project cost, pegged at Rs 4,766 crore (Rs 47.66 billion) in 1998 with estimated traffic of 40 million passengers, has risen now to around Rs 14,573 crore (Rs 145.73 billion) with 60 million passenger footfall expected per year. The cost rise is 305.76 per cent.