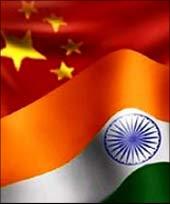 China has overtaken India as the most acquisitive emerging nation in the first half of this year, amid a dramatic slowdown in mergers and acquisition deals by emerging market firms in the developed countries, a KPMG report said.
"China has become most acquisitive of the emerging markets, while deal activity slowdown is most notable in India," global consultancy KPMG said in a report.
Overall, there were just 70 deals involving emerging market firms buying assets in the developed economies in the first six months of the year. The number of such deals has dropped by as much as 50 per cent as compared to deals in the latter half of 2008.
According to KPMG's Emerging Markets International Acquisition Tracker (EMIAT), India has recorded just 10 M&A deals targeted towards developed nations as against 16 deals by China in the first six months of this year.
The report revealed that India, which had been the most acquisitive of the emerging markets since the first half of 2004, has now relinquished its crown to China.
The country has even been beaten back to fourth place behind Central & Eastern Europe (12 deals) and Russia (11).
India's fall in the rankings is perhaps all the more spectacular for the fact that it registered 63 deals in the corresponding period last year, the report revealed.
However, taking into consideration the six-year period since 2003, India comfortably retains its place as the most acquisitive nation, with total 410 emerging to developed market deals in the period.
While, China is a distant second on 179, followed by the Middle East with 145 deals, the KPMG survey said.
The US remains the 'destination of choice' for acquisition by emerging markets with 351 deals, followed by the UK at 250 deals.
Despite the slowdown of deals from emerging market, KPMG remains upbeat for emerging markets' future outbound M&A prospects.
"India provides a perfect example of why it would be wrong to write off emerging markets' cross-border aspirations at this stage. While currently quiet in deal terms, its economy is still growing, there is post-election optimism, banks remain liquid and finance is available for the right deal," KPMG global head of advisory Alan Buckle said.
"Ambitious companies are awake to the fact that valuations are dropping. They (emerging  countries)continue to look abroad but are cautious after witnessing the very public travails of their own national champions in their overseas ventures. This caution will not last forever," Buckle added.
For the purposes of the survey, deals were monitored between a basket of 12 developed economies and a basket of 11 emerging, high growth economies, using data sourced from Zephyr.