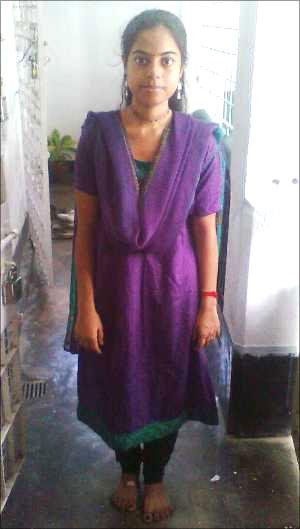 Meenakshi Halder, aka Minu, 13, had a dream of travelling around the world.
As a child, on her way back home from school near Diamond Harbour in West Bengal's South 24 Parganas, Minu would often imagine herself sailing across unknown seas with an imaginary friend -- London, Paris and New York -- being her places of interest.
However, her dreams got shattered early in life.
Her father lost his factory job and the family of five faced abject poverty overnight -- it did not know how to earn the daily bread.
Minu and her youngest sister were forced to drop out of school while her other sister was married off to a 'suitable' village boy.
"Didi, those were the most painful days of my life. I really wanted to study and be someone. I had always wanted to have a better life than my parents. I did not want to be a housemaid, you know.
"But I guess, it's a sin for the poor like me to even dream such dreams", says Minu. 
As a housemaid, however, she considers herself 'lucky' to have been to Puri and Mumbai so far with her employers in the past few years.
"London and Paris seem like cruel jokes now but I am happy to have at least got the chance to venture out of Bengal," she says.
Minu's family thereafter migrated to Kolkata in search of livelihood. And each one of them is now 'employed'.
Though Minu could not finish her studies she ensured that her youngest sister continued hers.
In fact, out of Rs 1,500 that she earns every month, she saves some amount and sends it to her family and also pays her sister's school fee.
"She is good at studies and wants to be a doctor. I sincerely wish that the misfortune that darkened my life does not engulf hers as well. She is only 12, she has the entire life ahead of her.
"As the eldest in the family, I do pray for her future. May God grant her the good life that we all so earnestly desired yet never got."
Child labour is a dagger through India's [ Images ] soul. The country has the dubious distinction of being home to the largest child labour force in the world, with an estimated 30 per cent of the world's working kids living here.