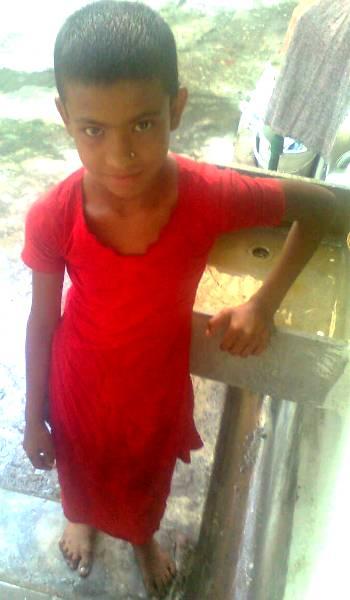 Ask her age and she mumbles some inaudible number. Ask her if she has ever been to school, she shakes her head vehemently and blurts out, "School? I don't even know how to hold a pencil."
All of 8 (at least that's what she looks), Rupa Parveen is a rag-picker.
She has been one since the age of 4. That's how she earns her bread.
She has learnt the rules of life the hard way at this prime age. Which is why she would not allow any cameraman near her.
Reason?
"They will publish it in the newspaper and I will lose my job."
However, after slight hesitation, she allowed this correspondent to take her photograph with a mobile camera and even consented to her photograph getting printed.
Working about 8-10 hours a day, Rupa makes about Rs 40 a day. She stays in a kholi in south Kolkata with her 60-year-old dadi.
The garbage that they pick is sorted at a dumpyard near Park Circus in south Kolkata and payments are distributed to each one of them.
With the money that the grandmother-granddaughter duo earns, they can afford only two square meals a day.
"When I feel hungry in between, I just have two bottles of water. It kills the hunger, you know," she says with a defiant smile.
Her rest of the family stays in Bangladesh. "Dadi and I go there every month via the border town of Bongaon," she pauses, to add, "without passports, of course."
"We need to pay Rs 1,000 to men at the border and they let us in," she claims.
Rs 1,000 out of Rs 2,400 that she and her dadi earn is steep, isn't it? "Yes, but I just can't help it. I need to see my parents and my 5-year-old brother at least once a month you see," she sighs.
"My parents work there as agricultural labourers. When they go out to work, our neighbours take care of my brother."
How and when did she come to India?
"I was too young then to remember anything. But dadi says there was some political turmoil there and all of us were asked to leave our homes.
"We fled to this 'part' of Bengal. But when things settled down a bit, my parents moved back leaving me with dadi. The latter by that time had got this 'job' and she wanted to keep me with her."
India, the world's second-fastest growing major economy, has millions of Rupas strewn across the streets. We come across some of them every once in a while.
Child labour is a dagger through India's soul. The country has the dubious distinction of being home to the largest child labour force in the world, with an estimated 30 per cent of the world's working kids living here.
Image: Rupa Parveen