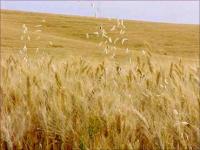 The central government has warned that grain allocated to states which take less than half of what is given under the ad hoc allocation system would be diverted to other areas.
This has been done after most states failed to lift the additional allocations, despite repeated reminders from the central government. "We have told the states we will shift the remaining quantity of grain to states with a better offtake," Union food minister K V Thomas told reporters after a day's meeting with his counterparts and food secretaries of major producing states.
Representatives of Andhra Pradesh, Haryana, Madhya Pradesh, Orissa, Punjab, Rajasthan and Uttar Pradesh participated.
Nandan Nilekani, chairman of the Unique Identification Authority of India, who also took part, called for a Public Distribution System which could be integrated with the 'Aadhar' numbers currently being allocated across the country.
The network will be a centralised system, helping states in computerising their PDS.
Thomas said the central government had made an additional allocation of five million tonnes for above-poverty line families, five mt for below-poverty line families and five mt for the 150 poorest districts in the country.
This is over and above the normal monthly allocation for the Targeted PDS. However, of the 15 mt of additional grain so allocated to states in the past six months, only 40
per cent was lifted.
Storage issue

Officials said this adds to the storage problem, as inflow of grains in the warehouses of Food Corporation of India and its state affiliates continue, while the outflow is limited.
Earlier, the food ministry had allowed states to distribute grain allocated for open market sale to jails, old-age homes, schools and colleges at a price which was Rs. 2 more than the purchase cost.
"If the states lift their share of additional grain allocation, much of the storage problems will be addressed," a senior food ministry official said.
Early this month, the total storage available with FCI and state agencies was estimated at 62 mt, while the grain stocks in the central pool was estimated at 64 mt.
"Our estimate is that at the start of June, almost 900,000 tonnes were kept in unscientific conditions," the minister said.
He said due to relentless efforts of the central government and states, just around 6,000 tonnes of the total procurement of 64 mt were wasted this year, due to inadequate storage capacities.
"The states have also been directed to build foodgrain storage capacities on their own, by taking help from Nabard (the National Bank for Agriculture and Rural Development)," the food minister said.
Of the 7.3 mt additional storage capacity approved by the central government in the past one year, almost 6.3 mt has already been sanctioned, of which four mt would come into operation by the end of 2011-2012.