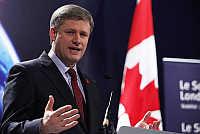 Speaking at the World Economic Forum, Canadian Prime Minister Stephen Harper called for closer ties between India and Canada, as developed countries are slowing down and there is need for expansion to emerging markets for exports and looking beyond traditional markets.
He urged the need to strike a free trade deal between the two countries.
There is mutual interest and synergy between the two countries, Harper said, adding that "Indian Prime Minister Manmohan Singh and I have agreed on taking annual bilateral trade between India and Canada to $15 billion by 2015."
Harper compared the situation on the free trade talks between the two countries to a Bollywood movie, where "two young people meet and they know they are meant for each other but have obstacles to overcome". And, before the viewer loses interest, they do, in fact, overcome those obstacles and the happy ending ensues, he added.
Canada has energy, agriculture, infrastructure and education, where trade between the two countries can take place.
"There
is massive untapped potential for trade between the two economies, but requires concerted efforts," he said.
The two countries have concluded deals to allow the export of Canadian uranium for the Indian nuclear power industry.
He pointed out how Canada has successfully concluded foreign investment promotion and protection agreements with 40 countries, including one with china, and is in negotiations with 12 more countries.
"Since 2006 we have done New Trade Agreements with nine countries while negotiations are on with 60 others."
He noted that Canada's effort has been to keep taxes down but ensure strong government finances at the same time.
On the fiscal cliff that is coming up in the US, he cautioned that it will create uncertainty. He said that it will continue to haunt for some time. "It is not something that can be fixed overnight."
Harper said that economic crisis is deterring investors and there are signs of protectionism, and "protectionism can lead to prolonged recession."
He maintained that Canada is one of the soundest developed economies in the world at the moment.