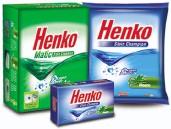 In March this year, Jyothy Laboratories snapped up Henkel AG and Co KGaA's 50.97 per cent stake in its Indian unit for Rs. 142.9 crore (Rs. 1.429 billion).
At one shot, the three-brand company leapt into the big league with six new brands in its stable, namely, Henko, Mr White, Fa, Pril, Margo and Neem.
Revenues also doubled: Consolidated revenues stood at Rs. 1,100 crore (Rs. 11 billion) from the standalone Jyothy Labs figures of Rs. 675 (Rs. 6.75 billion) for 2010-11.
Snapping up the beleaguered multinational is one thing; turning it around would be quite another. For one, the company's books are splashed with red.
For the year closing December 31, 2010, Henkel India posted a net loss of Rs. 51.84 crore on sales of Rs. 533.90 crore (Rs. 5.339 billion). (For the same period, Jyothy Labs posted a net profit of Rs. 85.17 crore (Rs. 851.7 million) on sales of Rs. 647.13 crore (Rs. 6.471 billion.) The cost of debt at Rs. 28.89 crore (Rs. 288.9 million) was higher than the Rs. 25.92 crore (Rs. 259.2 million) reported in 2009.
Moothedath Panjan Ramachandran, promoter chairman and managing director, Jyothy Laboratories, is aiming high.
"We want to be the third or fourth largest FMCG (fast moving consumer goods) player in India by 2015. We will be profitable by March 2012," he asserts.
Given Jyothy's track record of being a debt-free and profitable company since inception, his confidence is not entirely misplaced. Spearheading the rebound effort will be Ullas Kamath, deputy managing director, Jyothy Laboratories.
"Indian companies are extremely cost conscious and we want to impart that discipline to turn around Henkel India," he says.
Analysts say the acquisition fulfils Jyothy's primary aim of de-risking its portfolio, which relies in a big way on a single brand, Ujala Supreme fabric whitener, which contributes 32 per cent to its turnover.
Operating in a low-margin, low-involvement segment adds to the risk. It can't ride the pony too long and Jyothy knows it.
In the last few years, Jyothy has tried diversifying into detergents (Ujala washing powder, Ujala Stiff and Shine and Ujala Technobright), dishwash (Exo) and mosquito repellents (Maxo), but competition in these categories has made the going tough.
With a product portfolio close to its own, Henkel fits perfectly with Jyothy's ambitious growth plans.
"The Indian love for all things foreign means international brands command a loftier image," admits Ramachandran.
But then the operational turnaround is a big challenge in itself; plus the Rs. 600-crore (Rs. 6 billion) borrowings on Jyothy's books will further test the soap and detergent maker's ability to turn the new venture profitable.
Chop and churn


Manufacturing will be the first area of rework. Product formulations will remain the same, but manufacturing will be decentralised for Henkel brands. Kamath is certain that the 28 factories that Jyothy Labs has at its disposal can absorb the Henkel brands.
"While we operate on single shift, we can step up to a second or a third shift. Investments are to the tune of Rs. 5-10 crore (Rs. 50-100 million) on packaging lines and a high-end laboratory facility."
By trimming the 20-odd contract manufacturers of Henkel and moving production of Henkel brands in-house, Kamath expects gross margins to touch 38 per cent by the end of this year.
"Decentralising operations will bring about other benefits," notes Manoj Menon, analyst (consumer), Kotak Institutional Equities.
With a reconfigured supply chain, logistics costs will drop drastically. Kamath's target is to reduce logistics costs from 7-8 per cent of sales to 4 per cent.
Henkel's gross margins are currently 26 per cent and capacity utilisation in the last three months was 25 per cent, reflecting high cost of operations.
In contrast, the gross margins in the FMCG industry are to the tune of 50 per cent and Jyothy's stand at 48 per cent. The two Henkel plants at Karaikal (Tamil Nadu) and Kolkata (West Bengal) may be shut down if they continue to be unproductive.
Kamath is also eyeing raw material synergies to reduce costs. Unlike in the past, Jyothy does not have the obligation to source a key ingredient for detergents, LAB (linear alkyl benzene), from Tamilnadu Petroproducts (Jyothy Labs picked up Tamilnadu Petroproducts' 14.9 per cent stake in Henkel India earlier this year).
Purchases for both the companies will follow the Jyothy way - cash and carry - to ensure better leverage at the time of negotiation.
This will, over a period of time, drive down material and procurement costs, positively impacting overall EBITDA (earnings before interest tax depreciation and amortisation) margins which have been in the negative for Henkel India since inception.
Sales and distribution costs which have punished Henkel's profits will see streamlining. "Henkel India's sales and distribution costs were 35 per cent of sales.
Even big FMCG players incur a cost of 18-20 per cent of sales," points out Naveen Trivedi, research analyst (consumer), PINC research.
Industry observers believe the biggest strength Jyothy brings to the table is distribution, an area where Henkel has faltered.
"Continuous churn within the sales team impacted distribution," says an ex-Henkel hand who prefers not to be identified in the story. Also Jyothy's reach in rural India is tremendous. Today, 70 per cent of its sales come from rural India.
For Henkel it's the reverse: 70 per cent is from urban India. Jyothy hopes to capitalise on this and cross pollinate products across networks.
"It is an advantage but the benefits of such synergies will take time to materialise" says Shirish Pardeshi, co-head, research, Anand Rathi Financial Services.
Jyothy plans to retain the existing distributors of Henkel. Adding that network to its own will give it a wider footprint. Kamath is also reworking dealer margins to push Henkel products deeper.
A 1 per cent margin (from 5 to 6) jump for Henkel brands is on the cards. Jyothy dealers will see a 2 per cent drop in margins from the existing 8 per cent.
The reduced margins are expected to be compensated by way of increasing business from Henkel brands, according to Kamath. Despite providing a larger basket of products, the return on investment for dealers might drop, say analysts. This will prove to be a tough sell to dealers.
Kamath will also change the advertising and marketing mix for the Henkel brands. At Henkel, of the 4 per cent of sales assigned for marketing, 10 per cent was spent on advertising and 90 per cent on sales promotions. Compare this to Jyothy which spent higher (7-8 per cent of sales) on advertising and marketing, and the mix is skewed towards advertising (75 per cent), rather than sales promotion (25 per cent).
Reposition, rehaul


Jyothy has a lot of catching up to do in terms of brand building. As Asheesh Nigam, general manager, sales and marketing, Galla Foods, a unit of Amara Raja Group, who had worked with Henkel for a few years, says: "Henkel brands have always harped on product technology and never built an emotional connect with the Indian consumer." Menon of Kotak Securities agrees.
"Take Fa deodorant which has a good recall but is still only a Rs. 25 crore (Rs. 250 million) brand. Compare that to HUL's Axe that has become a Rs. 350 crore (Rs. 3.5 billion) brand with the help of concerted investments."
Experts say Jyothy can leverage its knowledge of the Indian consumer to work its magic on Henkel brands.
"Ujala was built through sharp advertising, and understanding of the Indian consumer," says Dheeraj Sinha, regional planning director, Bates 141.
"In the process, Jyothy helped resurrect a category where Reckitt Benckiser's Robin Blue was the only branded player."
Arvind Mohan, founder of culture and branding firm Religious, agrees: "Ujala Supreme tapped into the emerging class value system and made white a powerful sign of social mobility. This questioned the Brahmanical status quo where white was coded as a reflection of the inner self.
"For Jyothy, the next step will be to build power brands within Henkel," adds Sinha.
The company is already orchestrating a new branding strategy. "Our priority will be Henko Champion and Mr White which are the largest contributors to Henkel's business," says Kamath. The next wave will include Pril, Margo and Fa.
Of Henkel India's Rs. 400 crore (Rs. 4 billion) turnover from its brands, Henko Champion rakes in 35 per cent, Margo brings in 20 per cent, 17.5 per cent comes from Pril, 14 per cent from Mr White, whereas Fa, Chek and Neem are miniscule and bring in 6 per cent, 5 per cent and 2.5
per cent each.
Kamath is clear that some of the existing advertising agencies will have to fight in the coming months to keep their assignments.
"Going forward, we will consolidate brands with a few agencies to allow better management and larger volume discounts in media buying." Kamath is tight-lipped on the strategy he will use to differentiate his brands, but shares a few insights.
Henko Champion, which competes with Hindustan Unilever's Surf and Procter & Gamble's Tide in the Rs. 1,000 crore (Rs. 10 billion) premium detergent market (overall detergent market: Rs. 12,000 crore (Rs. 120 billion), will be repositioned as a premium brand. Over the years, the focus on freebies like 'free buckets with Henko' had diluted the original premium positioning of Henko, say marketers. A 10-20 per cent price hike for Henko is also on the agenda to increase profits.
"Price hike will not affect volumes as loyal consumers have stuck on despite low advertising spends," says Kamath.
Mr White will be competing with mid-tier detergent brands like HUL's Vim, Sunlight and sister brand Ujala detergent powder.
Chek, which operates in the mass segment (20-25 per cent of overall detergent market), will not see too much investment. This brand has a high recall value in the east and north and will be limited to the region, notes Kamath.
Can Jyothy hold its own against the well-entrenched players in the detergent market, especially when it has seen a 25-30 per cent price erosion over the last two years?
The margins are low in this segment and competition is intense from multinational brands like Surf and Tide on the one hand, and local warriors like Ghari and Nirma on the other. Kamath hopes to steer clear of the biggies and focus on consumers who migrate from mid to the premium segment, or low to the mid segment.
A senior official who has previously worked with Henkel India says, "Henko has a national potential but for Mr White, the company should focus on building its stronghold in the south through regional communication.
"The strategy could be similar to what Ghari detergent (from Kanpur-based Rohit Surfactants) did many years ago by focusing on Uttar Pradesh and then moving out."
Pril and Margo will also be nurtured carefully. Pril, once the market leader, lost out to HUL's Vim on distribution and marketing. Our aim is to reinvigorate the brand.
"The liquid dishwash market valued at Rs. 100 crore (Rs. 1 billion) (total dish washing market: Rs. 10,000 crore (Rs. 100 billion) comprising of liquid, bars and powder) is the fastest growing in the segment," points out an industry observer.
Given that a major chunk of dish washing liquid sales happen through the eight lakh modern trade outlets, Jyothy must immediately focus on this channel. Kamath points out that Jyothy has an edge in this category - two of the three dishwash brands (Vim, Exo and Pril) in the market belong to the company.
"We want to position Pril as a liquid-driven dishwash brand and Exo as a bar-driven brand," says Kamath.
For Margo, Jyothy will leverage its long heritage - nine decades in the intensely competitive soap market. Going forward, Margo will retain the core antibacterial proposition but is mulling extension into new-age categories like face wash, hand wash or face lotion.
"We want this to be an aspirational brand among youth, rather than the soap their grandmothers used," says Kamath. It could perhaps draw some learnings form HUL's Lifebuoy, a soap which has maintained its leadership position over the years and evolved from a pure carbolic soap into several new-age products like handwash and hand sanitiser. Neem toothpaste will not see significant investment in the near term.
For its part, Fa will also be a growth driver. The deodorant category valued at Rs. 1,000 crore is growing fast (compound annual growth rate of 50 per cent) and offers tremendous scope.
"Fa lost out to rivals due to sales from the grey market and lack of consistent communication," says an ex-employee of Henkel India.
"Fa has an excellent recall and has done well globally. It suffered in India due to lack of marketing muscle and our aim is to change that," says Kamath.
Jyothy's existing brands will see some small investments too. While Ujala Supreme (a Rs. 300 crore (Rs. 3 billion) brand) will remain in maintenance mode, Maxo (a Rs. 200 crore (Rs. 2 billion) household insecticide brand), whose sales come mostly from the coil variant, will now push harder in new age formats like liquid and aerosols.
A new category head is coming on board. Initiatives for Exo (Rs. 125 crore (Rs. 1.25 billion) brand) will be focused on taking the South India focused brand national.
To steer the chairman's ambitious goals, Jyothy is tweaking the management structure. It is flattening the reporting structure at Henkel while inducting new category heads and brand managers.
With the company entering categories dominated by multinationals, hiring the right people will be key. The company is also looking to do away with what it calls "frivolous administrative costs".
For Jyothy, it is both an exciting and daunting period. Plan and products it has, but time will tell just how far it will take the brands.
Experts' take

The good news for Jyothy Laboratories is that its Henkel acquisition offers many complementary advantages in terms of product range and distribution. The bad news is that it has acquired an embarrassment of mediocrities.
The Henkel brands have spluttered for decades in the Indian marketplace, never really fulfilling their promise, and eventually frittering away some of the gains they made.
The portfolio is a bits-and-pieces one, and the real problem is that the toplines for the brands hide weakness rather than latent strength.
The biggest issue with the Henkel brands, with the possible exception of Margo, is that their volume is not really a reflection of the strength of their equity and has been cobbled together scratchily.
In many ways, Jyothy needs to see its task as that of brand re-creation rather than that of exploiting these brands as ready assets. This is something it is good at, given its track record with Ujala and to a lesser extent with Maxo, in what is admittedly a more fragmented and competitive category.
Ujala created a new dye-based liquid blue category in fabric wash that was suited to local conditions and took on the might of Robin Blue, which it has all but dismantled.
The Jyothy success story has many components, but the key ingredient has been its ability to focus its efforts sharply on its key brands, and build volumes market by market.
This has allowed it an ability to invest in these brands as well to keep its eye on sustaining a product advantage vis-a-vis its competitors.
The challenge for Jyothy is to display the same intensity of effort behind the Henkel brands. It would perhaps make sense for it to clearly spell its ambitions for each brand and category and to sharply prioritise its actions.
For a company like Jyothy, it would be a mistake to spread its efforts thinly, and to toggle between the new brand assets it has acquired.
That is what the problem with Henkel was and that is also what Jyothy is not naturally good at. It needs to take things category by category and aim for significant share gains in selected categories.
Having set its priorities, there is a need to build powerful ideas behind the selected brands. The current Henkel approach has been a pronouncedly me-too one, staying content with mimicking category leaders weakly and that is simply not good enough to continue.
Jyothy will need to be braver and take more chances; it needs to try and redefine some accepted category truths and operate as a feisty challenger that is at the forefront of innovation, be it in terms of the product or its marketing. This is easier said than done, for the categories in question are extremely mature and well-established and do not offer too many easy opportunities for change.
Jyothy needs to trust its native instinct for that's what has got it where it is and eschew a desire to become a clone of its larger competitors.
It also needs focus, patience and a fierce desire to create discontinuity in the marketplace. In many ways, this is a bold acquisition, which takes the company out of its comfort zone.
The good news is that if the Henkel brands have any chance of succeeding, they will need the kind of energy and focus that Jyothy has brought to its brands.