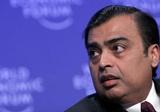 The nation's premier audit body The Comptroller and Auditor General has constituted a high-level team for auditing Reliance Industries' expenses on eastern offshore KG D-6 fields and the exercise will begin this month.
The CAG, which has been asked to do special audit of not only RIL but also Cairn India's Rajasthan block and British energy firm BG Group-operated Panna/Mukta and Tapti fields, has constituted various teams for undertaking the audit, sources in the know said.
It is understood that CAG is thinking of deploying a high profile team comprising P K Mishra, Principal Director, A K Awasthi, Additional Deputy Director, and Dharamendra Kumar, Director, besides many auditors.
It is also understood that scope of this audit will far exceed the normal course of audit by CAG and the prime objective may be to detect fraud, if any, by RIL allegedly in collusion with oil regulator DGH and Ministry of Petroleum and Natural Gas.
It is expected that the audit may take several months to complete, the sources said.
CAG was asked by the oil ministry to audit the accounts of RIL, which is facing allegations of gold-plating gas field costs that has increased four-fold to $8.8 billion. RIL had on August 17 agreed to an audit by the counry's premier audit body.
CAG has so far sought from RIL a list of relevant documents for KG D-6 fields, as it has sorted out issues like legal tenability of audit of production sharing contract and enforceability of corrective steps.
CAG had earlier complained that it could not make any headway in the last two years in the absence of access to the books of private operators, including RIL.
While the ministry wanted special audit of accounts from 2003-04 fiscal, CAG wanted the scope of examination of records be restricted to 2006-07 and 2007-08 only.
RIL had on August 17 agreed to a CAG audit. Oil Minister Murli Deora too had on August 31 promised CAG unfettered access to account books of the private company.
As per CAG's Regulations on Audit and Accounts for Special Audit, the request made by the oil ministry for KG D-6 did not fall under the relevant rules, the sources said. To overcome this, they further said, the request has now been covered under the terms of reference framed in consultation with the CAG.
The government in 2002 asked CAG to audit PSCs like the one for KG D-6 block with RIL, signed under the New Exploration Licensing Policy (NELP), but the premier auditor had then stated that its charter neither permitted audit of private accounts nor did it have the manpower to do so.