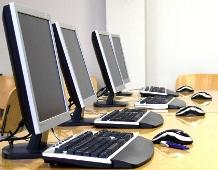 The information technology sector is pitching for abolition of the inverted duty structure on products, which is encouraging the import of hardware products by making these cheaper, rather than manufacturing locally.

The Manufacturers'Association for Information Technology has presented a memorandum to the ministry of finance, for growth-oriented measures to boost domestic manufacturing.

Other recommendations include no central sales tax on purchases of products manufactured in India, removal of basic customs duty on IT accessories and enhancement of maximum retail price abatement.

Harsh Chitale, chief executive, HCL
Infosystems, said for the domestic electronic manufacturing sector to thrive in India, it was vital to eradicate anomalies such as the inverted duty.
"Today, it is cheaper to import a ready-made product than to make a product here. So, there is an urgent need for policy interventions in this sector to encourage domestic manufacturers and drive innovation," he said.
India's IT sector, including hardware, has an annual turnover of about $100 billion, and for FY14 the domestic market is expected to grow 13-15 per cent.