The Union civil aviation ministry has asked for Rs 19,911 crore (Rs 199.11 billion) as budgetary support from the government for Air India in the 12th Plan (2012-17), a part of the Rs 23,000 crore (Rs 230 billion) a Group of Ministers (GoM) had said should be infused till 2020-21 in the ailing state-owned airline.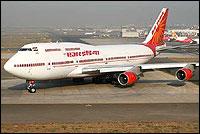 "But these recommendations are conditional and the airline will also have to meet certain targets to get the fund," said a senior civil aviation ministry official, who did not want to be identified.
The GoM on reviving Air India recommended infusion of Rs 23,000 crore of equity into the ailing airline by 2020-21.
This was apart from the infusion of Rs 3,200 crore (Rs 32 billion) in the past two years, increasing the airline's equity base to Rs 3,345 crore (Rs 33.45 billion).
The airline is already committed to raise a separate sum of Rs 13,052 crore (Rs 130.52 billion) through 'Internal Extra Budgetary Resources' to fund aircraft acquisition plan during the period.
It is to take delivery of at least 20 Boeing 787 Dreamliners in this time. Of the 27 Dreamliners on order, it was to take delivery of seven in the current financial year, but the government is yet to approve this.
The Cabinet has to also decide on infusion of another Rs 5,400 crore (Rs 54 billion) before March-end.