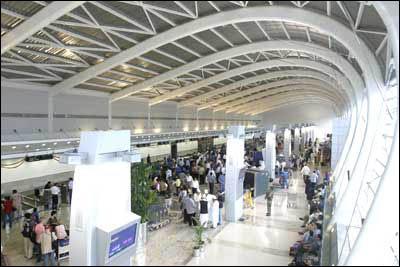 Private airport operators in the country on Wednesday said the government should bring aviation turbine fuel under the Goods and Service Tax (GST) Act and increase the duty-free allowances for incoming international passengers in this Budget.
The Association of Private Airport Operators (APAO) -- comprising the airport operators of Delhi, Mumbai, Bengaluru, Hyderabad and Kochi -- put forth their list of suggestions to the finance ministry for the Union Budget.
APAO wants aviation fuel to be brought under the GST, which is intended to bring taxation of goods and services across various states under a unified tax structure.
"Currently, the difference in tax structure and especially the tax rates, results in heavy cost for the tax payers. In case of ATF, the tax rates substantially vary from state to state and Indian aviation industry, being very price-sensitive, is adversely affected due to vast difference in ATF taxation," the APAO members said in their proposal.
Bringing it under GST Act would ensure that taxation on ATF across the nation would be uniform, they said.
Also, they want ATF to be classified as 'declared goods' under the Central Sales Tax Act, which they say would help emergence of Indian airports as hubs and stabilise ATF prices across the country.
The airport operators want the government to enhance the duty-free allowance for incoming international passengers from Rs 25,000 to Rs 50,000 and also encourage them to buy from Indian duty-free shops.
"With steep depreciation of rupees, there is a need to increase the allowance to Rs 50,000 from Rs 25,000. Also, duty-free import of liquor may be allowed upto three litres for liquor and additional two litres for wine," the suggestion sent by APAO to finance ministry said.
The five private airports of Delhi, Mumbai, Hyderabad, Kochi and Bengaluru together handle around 65 per cent of the country's air passenger traffic.
Apart from it, they have suggested specific income tax exemption on security component of passenger service fee, which consists of PSF facilitation and PSF security.
They said PSF-SC was not the regular income of the airport operators but collected on behalf of the government and used only for meeting security related expenditure like reimbursing salaries, benefits and other expenses of security agency deputed at the airports and buying security equipments.