Indian vegetable oil industry consists of 15,000 oil mills, 600 solvent extraction units, 600 vegetable oil refineries and 250 vanaspati units spread across the country crushing / processing oilseeds, oilcakes, rice bran & processing vegetable oils.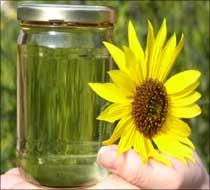 The domestic turn over of the vegetable oil industry is Rs 10,0000 crore and import-export turnover of about Rs 40000 crore per annum, consisting of Rs 27000 crore for import of vegetable oils & Rs13000 crore for export of oil meals, oilseeds,  castor oil, groundnut oil & vegetable fats of tree borne oilseeds.
India was relatively lower yields on the back of growing oil seeds in marginal and sub marginal lands under low input usage. To bridge the gap between demand and supply, country is compelled to import a large quantity of edible oils.  India has become the largest importer of vegetable oils in the world.
During November, 2008 to October 2009 (2008-09), country imported 86 lakh tonnes of edible oil worth Rs 28000 crore, a huge burden on exchequer next to crude petroleum products.
In order to increase the availability of Vegetable oil from domestic resources and address some of the problems related to the industry, Solvent Extractors Manufacturer Association (SEA) has suggested some measures for the Government to be considered in the Union Budget 2010.
SEA recommendations:
Create "Oilseeds and Oil development fund" by imposing development cess on imported edible oils, so as to give special thrust to achieve higher productivity in oil seeds and promote diversification in the domestic producers.
Grant weighted income tax deduction of 200% to the companies under taking Oilseeds Extension Programme.
Set up ICAR R&D center at Raipur in Chattisgarh for development of value added products.
Declare Oil palm as a plantation crop, which will drive the palm cultivation in a big way and help to bridge demand and supply gap of edible oil.
Request the Government to revisit the import duty structure and impose at least 20% duty on Crude Palm Oil, 30% on RBD Olein, 25% on Crude soybean oil  and  Sunflower oil  from the present level  of 'Nil' duty on crude oils and 7.5% on refined oil.
Realign tariff values of different products as follows:
Oils

Present Tariff (US$/MT)

Proposed Tariff Value

(US$/MT)

RBD Palmolein

484

705

Crude Palm oil

447

660

Soybean Oil

580

870

Sunflower Oil

Not fixed

850
Grant General Exemption to Vegetable Oil Refining Industry from the excise duty. Also grant excise duty on "refining of rice bran oil & processing of its bi products" so as to encourage value addition.
Reduce the excise duty on Food grade Hexane used in the processing of oilseed and oil bearing material from present level of 14% to 8%.
Sensitive essential items of mass consumption like edible oils & oilseeds should be either exempted or taxed at lower rate under the proposed GST structure and should be the same for all States.
Include coal, fuel oil, diesel etc in list of consumables used by the Vegetable oil processing or refining industry in order to attract VAT, and Permit credit of VAT paid on the above consumables.
On the Services tax front, collection and deposit of service tax should be the sole responsibility of the transporters, as is the case in other service sectors.
Futures contracts for oilseeds should be restricted to one month only and margin money required for futures trading in oilseeds should be enhanced to a level that will discourage pure speculative activity in the market and ensure that the mechanism of futures trading is used for the purpose of risk management.
FICCI recommendations:
In order to have fair conditions of competition and to create level playing field for the domestic vanaspati producers vis-à-vis the vanaspati imported duty free under FTA from neighboring countries; make flat rate of duty on vanaspati at Rs 4000 per tonne instead of present advalorem duty on Crude Palm Oil (CPO) for manufacture of vanaspati on actual user basis (present duty on CPO works out as Rs 8500 per tonne as against Rs 1000 per tonne in Sri Lanka).
Alternatively, pending the implementation of the first proposal, the inverted duty structure be corrected by permitting the domestic vanaspati industry to import CPO at a concessional duty of 20% on actual user basis.
Analyst expectations:
Declaring Oil palm as a plantation crop will motivate palm growing in India and improve the supply scenario of Oil seeds. Considering the high inflation in general and food inflation in particular, we donot expect the import duty structure on edible oils to be hiked. Setting up ICAR R&D center will help the industry to develop value added products for the industry.
Companies to watch:
Ruchi Soya, Adani Wilmar, KS Oils, Gokul Refoils and Solvents etc
Outlook:
India is one of the major importers of vegetable oil in the world mainly on the back of lower yields on the back of production in marginal and sub marginal land as under low input usage. At about 900 kg/hectare, Indian oilseed yields are about half of the world's average and less than one-third of leading producers.
In order to encourage domestic production of oil seeds government needs to encourage palm growers. Any move by the government to encourage oil seeds production will help the industry to step up the supply.
Though the industry seeks hike in customs duty and to revise upwards the tariff values, we donot expect these to be initiated in the Union Budget 2010-11, considering their potential to fan up inflation, which is already very high. Overall, the Union Budget 2010-11 is likely to be neutral for the edible oil and oil seed sector.