Remove anomaly of higher customs duty on inputs by cutting the customs duty on natural rubber, other inputs and on tyre manufacturing machinery and / or hike in customs duty on tyres.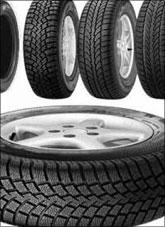 The tyre industry in India stands at around Rs 22,500 crore in FY 09. Truck and bus tyres account a major portion (65%) of the industry's turnover.  According to the statistics of ATMA -- Automotive Tyre Manufacturers Association, tyre production in November 09 has jumped up by 23% to 85.63 lakh tyres as against 69.61 lakh in the corresponding previous year.
Truck and bus tyres grew by 17% to 12.19 lakh tyres, passenger car tyres grew by 33% to 18.51 lakh tyres, and motorcycle tyres grew by 29% to 32.38 lakh tyres in November 09. All the other tyres reported increase in the production except that of Jeep, which slipped down by 9% to 1.20 lakh in November 09.
On the other hand, the tyre exports were still in the downtrend and have reported 6% dip to 4.76 lakh tyres in November 09. However, the exports of truck and bus tyres have reported increase of 6% to 1.72 lakh tyres in November 09.  
Tyre Industry is one of the raw material intensive industries in India. Raw material cost accounts for nearly 62% of tyre turnover and 70% of the production cost. Natural Rubber is the key raw material for the tyres followed by Carbon Black and Nylon Tyre Cord fabric and Rubber Chemicals. 
Nearly the Tyre Industry consumes 58-60% of the domestic Natural Rubber produced, and the latter accounts 42% of the raw material cost of the industry.
After 12 months of down trend on y-o-y basis, prices of RSS 4 grade rubber are firming up steadily since October 09 from Rs 10904 per quintal to Rs 14050 per quintal on 28th December 2009, which is close to all time high of Rs 14200 per quintal recorded on 28 August 2008.
From the peaks, the RSS 4 rubber prices have eased to about Rs 13375 per quintal on 5th February 2010. The carbon black prices have surged by 29% from Rs 40310 per tonne in the quarter ended June 2009 to about Rs 51842 per tonne in the quarter ended December 2009.
The spike in input costs, and as sizeable portion of many inputs are being imported, the tyre sector witnessed sequential fall in margins in the quarter ended December 2009, despite strong demand growth.  In this background, ATMA has submitted a pre budget Memorandum to the Government of India for its consideration in the forth coming Budget 2010-11.
Duty Structure:
| | | |
| --- | --- | --- |
|   | Existing | Proposed |
| Tyres | 10.00% | 20.00% |
| Rubber | 20.00% | 7.50% |
| Butyl Rubber | 5.00% | Nil |
| Polyester Tyre Cord | 5.00% | Nil |
| Styrene Butadiene Rubber | 10.00% | Nil |
| Machinery | 7.50% | Nil |
| Nylon Tyre Cord | 10.00% | 5.00% |
| PBR | 10.00% | 5.00% |
| Rubber Chemicals | 7.50% | 2.50% |
| Steel Tyre cord | 10.00% | 5.00% |
Industry Expectation
The industry has reported the anomaly of customs duty on raw material – Rubber at 20% being higher than the customs duty on finished products - Tyres which is at 10%.
On the back of spike in the rubber prices and increase in the tyre imports, Industry has urged Government to reduce customs duty on the Natural rubber from existing 20% to 7.50%. However, as an alternative it has suggested to increase customs duty on tyres from existing 10% to 20%.
Also, India has entered into some regional trade agreements, which make the customs duty on import from select countries even lower.  The Asia Pacific Trade Agreement permits tyre imports at 8.5% for passenger car tyres and at 8.6% for toher tyres. 
Likewise, South Asian Free Trade Agreement (SAFTA) facilitates nil customs duty on tyres imported from Bangladesh, Bhutan, Maldives & Nepal and at 5% from Pakistan and Srilanka.  Similarly, Indian – Singapore Agreement provides for tyre imports without any customs duty.  Thus, the effective customs duty on total tyre imported is far less than 10%, and hence ATMA seeks cut in customs duty on Natural rubber from 20% to 7.5%.
Besides rubber, the Industry imports much of the proportion of other key raw materials like PBR, Steel Tyre cord, Nylon Tyre cord and Rubber chemicals. As much of the industry's demand for the above raw materials was not met locally, industry seeks reduction of customs duty on Nylon Tyre Cord, Steel tyre cord fabric and PBR from existing 10% to 5% each, and slash customs duty on Rubber chemicals from 7.5% to 2.5%.   
The industry is looking for wavier on customs duty on some materials which were not produced domestically like; Butyl Rubber, Polyester Tyre Fabric, and Styrene Butadiene Rubber.
The industry has also asked for waiver of Customs Duty on Tyre manufacturing machinery, (like Machinery (for working rubber), Extruders, Moulding / retreading tyres / inner tubes and other machinery along with parts) which will accelerate the pace of radialization in the country.
Besides these, any measure taken for Automotives will also help tyre industry.
Companies to watch
MRF, Apollo Tyres, JK Tyre & Industries and CEAT
Outlook
The share of Chinese imports in to domestic tyre industry is showing a consistent improving trend, while the firming up rubber prices is another concern for the industry. As the government is keen on fiscal stimulus withdrawal, this can lead to increase in excise duties, which is quite detrimental for the tyre sector. 
Any increase in excise duties will not impact the exports or the OEM supplies, but can impact the domestic player's market share in the replacement market. Similarly, if the excise duties on automobiles are hiked, and if that affects the demand for new vehicles, there will be derived impact on tyres, especially in the OEM segment. 
Any cut in customs duties on input will benefit, but the possibility of hike in customs duty on tyres appears remote. Overall, the Union Budget is set to be neutral with negative bias for the tyre sector.