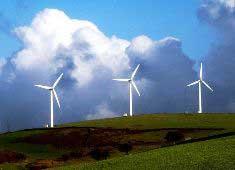 Finance Minster Pranab Mukherjee in his Budget Speech in Parliament on Friday proposed to increase the Plan outlay for the Ministry of New and Renewable Energy by 61%  from  Rs 620 crore  in 2009-10 to  Rs 1000 crore in 2010-11.
The minister also announced that to address the problem of energy deficiency in the Ladakh region of Jammu & Kashmir which faces extremely hard climate, the government proposes to set up solar, small hydro and micro power projects at a cost of Rs 500 crore.
The ministry of new and renewable energy, which aims to develop and utilise new and renewable sources of energy fur supplementing energy requirements of the country in an eco-friendly and sustainable manner, has got a total Plan outlay of Rs 1,950 crore which includes Rs 950 crore as IEBR in the annual plan for the year.
The following physical targets/activities have been set during the financial year:
2972 MW Grid-interactive power capacity addition from wind, small hydro, biomass, power/cogeneration, urban & industrial waste to energy and solar power; 142 MW eq. off grid / distributed renewable power systems.
Provision of basic electricity/lighting facility through SPV/other RE systems and devices, including DRPS in 1500 remote villages/hamlets; and family type biogass plants of capacity of 0.30 million m2 (1.5 lakh Nos.).
Deployment of solar water heating systems of 1.00 million m2; promotion of energy -- efficient buildings (1 million sqm. floor area) and development of solar cities.
R&D activities on different aspects of new and renewable energy technologies; support to MNRE centres /institutions and standard and testing; renewable energy resource assessment.
Information, publicity and extension (IPE) of renewable energy systems; international  relations; administration and monitoring, including HRD and training; support to states, public enterprises and industry including HRD and training activities to be undertaken under Solar Mission. -- PIB