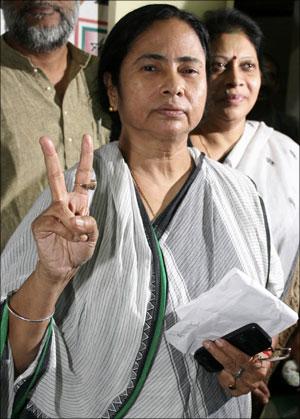 Feisty Railway Minister Mamata Banerjee sped like a 'Rajdhani' ignoring barbs and raising her voice when some members tried to derail her when she presented her marathon budget on Wednesday.
And during the course of the two-hour budget presentation in the Lok Sabha, the Trinamool leader even had Congress chief Sonia Gandhi in splits several times. Her Bengali pronunciation of some names also led to laughter.
Unmindful of the commotion and continuous barbs that she was pleasing poll-bound West Bengal, Mamata remained unfazed insisting her vision was pan-Indian, asking members pointedly which state would benefit from a project or a new train she was announcing.
Mamata, who was interrupted several times during her speech by members alleging that she was ignoring their constituency, was heard shouting back - "Aap shaant ho ke baitho to dega" (if you sit silently, I will give you), "Chillao mat" (don't shout), "Jitna marzi chillao" (shout as much as you want) and "Mera jaan kha gaya sab" (they have pestered me so much).
At one point, she told a member who wanted Jaunpur to be included in the list, "Jaunpur bhi jayega (it will go to Jaunpur too)" and then jotted it down on her file.
She even reprimanded a member, saying, "If you don't listen, I will cut it (cancel your constituency's name from the list)", making Congress president Sonia Gandhi clap in glee.
Though Mamata read out the entire list, each time she announced trains or schemes -- mainly with the purpose of placating the members that nobody had been left out -- there was no dull moment, thanks to her inimitable style and quick repartees to those interrupting her.
"I am reading just like Rajdhani. Kya karega (What to do), there are so many schemes," she said, at one point.
She also read out the lyrics of Lata Mangeshkar's famous song-- "Jo shaheed hue hain unki zara yaad karo kurbaani" -- which she said was sung by her at Jawaharlal Nehru's request.
However, several members, including from the treasury benches, felt the Rail Budget was West Bengal-centric, 2011 being an Assembly election year in the state.
Miffed at this allegation, Banerjee once asked, "Cuttack kahan hai? Jabalpur kahan hai? (Where is Cuttack? Where is Jabalpur?)" after announcing trains for these places.
Once, when Banerjee named Jalpaiguri (in West Bengal) in the list of places figuring in one scheme, NCP chief and Agriculture Minister Sharad Pawar -- seated next to her, laughed, she promptly said: "To kya ek bhi nahin karega? (will I not include at least one from my state?)"
After her home state, Banerjee seemed to have concentrated on pleasing Sonia Gandhi and her son Rahul. She announced setting up of a bottling plant in Rahul's constituency, Amethi, leading to some noises in the House.
Mamata also recited her favourite couplet -- Khudi ko kar buland itna ki har takdeer se pehle Khuda tujhse yehi poochhe bataa teri razaa kya hai (make yourself so strong that each time before deciding your fate God asks what is your wish).
The railway minister, who has a strong Bengali accent, also apologised to the House for her pronunciation.
"My pronunciation will go wrong if I go fast. I apologise for my pronunciation," she said.
Despite frequent interruptions from members during the budget presentation, Banerjee won applause several times, especially for her "socially desirable projects".
She got full support of the House when she said the government will not privatise the Railways, will lay 1,000 km of rail tracks with its limited resources though the annual average is 180 km, and hold recruitment examinations in Hindi, English, Urdu and regional languages.
S K Bwiswmuthiary (Independent) showed a pamphlet and then staged a walkout during the budget presentation.
Pradeep Tamta (Cong) complained about his constituency Almora being ignored by the rail ministry for several years. Minister of State for Parliamentary Affairs V Narayanasamy had to convince him to cool down.
At one point a worked-up Banerjee even threatened to lay the remaining portions of the budget speech on the table of the House.
"Madam, from next time it should be laid on the table," an exasperated Banerjee told the Speaker during one such moment of uproar.
But it was a happy ending for Banerjee when, after her speech, Prime Minister Manmohan Singh blessed her and Finance Minister Pranab Mukherjee patted her back.