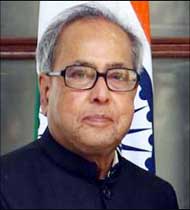 Finance Minister Pranab Mukherjee has promised a delegation of urban cooperative bankers that their demand for some relief from payment of 30 per cent income tax on the profits made by their banks will be considered.
The delegation, which was led by Communist Party of India-Marxist member of the Parliament Basudeb Acharia, told Mukherjee that the urban cooperative banks have been put to 'extreme hardship' due to the hefty 30 per cent tax on profits.
"They (urban cooperative banks) were exempted from payment of income tax for decades. These banks will be left with no funds to build their reserves after paying the tax and dividend to their members.
"Cooperative banks cannot survive in Thursday's competitive atmosphere without raising their internal strength," a memorandum presented by the delegation said.
The memorandum demanded removal of the discrimination under Sec 80C of the Income Tax Act under which fixed deposits in cooperative banks do not not enjoy tax benefits given to scheduled commercial banks.
It also sought restoration of the income tax exemption under Sec 80P which they had enjoyed ever since inception but was removed during their centenary year four years ago.
Forum convener C V Kumar presented to the minister an appeal signed by 50,000 members of the cooperative banks and public from across the southern states pressing their demand.
Kumar said the minister took note of the points raised by them and promised to consider them.
The delegation also met agriculture minister Sharad Pawar and Communist Party of India MP D Raja, who promised to take up their demands with the finance ministry.
The other members of the delegation included N Prem Kumar, K Umapathy, C R Krishnamurthy, P T Sathyanarayana and C K Sairam.
Image: Finance Minister Pranab Mukherjee