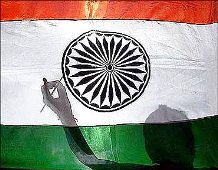 Bank of America Merill Lynch on Monday lowered India's GDP growth projection yet again, saying the economy will expand at 5.8 per cent during the current fiscal in view of tight liquidity and slow industrial recovery.

The global brokerage has also lowered the growth forecast to 6.8 per cent for the 2014-15 fiscal.

"With tight liquidity delaying lending rate cuts and by extension, industrial recovery, we have marginally pared our growth forecast to 5.8 per cent from 6 per cent earlier in FY14 and 6.8 per cent from 7.2 per cent in FY15," BofA-ML economists said in a note.

The note comes within two days of release of official data confirming that the GDP expansion came in at a 10-year low of 5.025 per cent in 2012-13.

The brokerage firm had in March revised the growth estimate down to 6 per cent for 2013-14.

The government's economic survey expects growth to come in between 6.1-6.7 per cent cent for the fiscal, while the Reserve Bank pegged it at 5.7 per cent.

BofA-ML expects a 'shallow recovery' in growth only in the second half of the current fiscal and added that lending rate cuts hold the key for the revival.

"Given that neither
the global business cycle is likely to turn nor capex set to turn around, recovery will pretty much depend on rains and lending rate cuts," it said.
The report said lending rate cuts have the potential to take the growth to the 6 per cent level and added that we should monitor the rate cuts for recovery.
BofA-ML expects the lending rates to come off by another 0.50-0.75 per cent by next March as deposit grows 15 per cent on the expected CRR cuts and OMOs from the Reserve Bank.
"The resultant improvement in liquidity should soften lending rates to arrest the fall in growth," it said, adding that for the June 17 policy review, it expects a 25 bps cut each in both the CRR and the repo.
Explaining the reasons for the slowdown, BofA-ML said at least 0.75 per cent of the around 3 per cent slowdown in growth can be attributed to the Reserve Bank's elevated rate stance, which came as a result of high inflation.
A major impact of around 1.50 per cent was due to the global downturn, while investment slowdown resulted in 0.50 per cent and poor rains with 0.25 per cent.
On the positive side, it said 80 per cent of the 50 equity investors it met recently are neutral-to-overweight on the country to diversify risk away from China, even though they might be so 'reluctantly'.