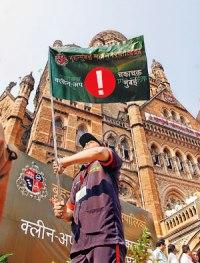 Hawkers and advertisers will feel the pinch of increase in their monthly hoarding and hawking charges as Municipal Corporation of Greater Mumbai, who is reeling under financial crisis, is likely to implement the revised rates which have been doubled.
According to MCGM, the monthly advertisement and hoarding charges are likely to be increased by at least 50 per cent.
"The civic body will hike charges to be collected from hawkers and those putting up hoardings as well. The increase in charges of both advertisement and hoardings are approved by the law committee," a civic official from the license department said.
"The hoarding fees have been passed by the general body meeting as well but the hawking charges still awaits a nod," the official said.
MCGM's finance department has instructed all departments to cut down on expenditure and revise rates of civic services to tide over the financial crisis.
According to BMC, currently, charges for hoardings, billboards, wall paintings, balloon ads, street furniture is Rs 300 per sq mt.
This will be hiked to Rs 550 per month per sq mt.
Charges for neon signs, electronic scroller, trivision will be increased from Rs 450 to Rs 800. Billboards on top of the buildings, government buses, and electricity poles will be increased from Rs 120 to Rs 200.
Hawking fees for both roving and sitting hawkers have been doubled. For roving hawkers the charges will be increased from Rs 25 per sq mt to Rs 50 and for sitting hawkers from Rs 90 to Rs 180 per sq mt.
The city has nearly 4,50,000 hawkers of which approximately 15,000 are authorised to carry out their business.
While, there are 2,300 different kinds of hoardings in the city.
"The civic body earns Rs 61 crore (Rs 610 million) from hoardings and after implementation of revised rates it is likely to earn another Rs 35 crore (Rs 350 million)," the official said.
In 1997 and in 2003, revised the license fee for hawkers and hoarding fees for advertisers respectively.
"Every year there will be a 10 per cent increase in both the charges," the official said.