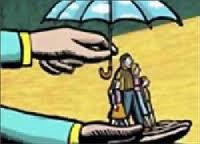 If the United Progressive Alliance government wants more foreign investment in the insurance sector, it might have to ensure, with an explicit clause in the insurance Bill, that 23 per cent of the equity brought in is from foreign institutional investors, non-resident Indians and foreign corporate entities.

That's one of the conditions the Bharatiya Janata Party has put before the government for supporting in Parliament the insurance Bill, which envisages raising the cap on foreign direct investment in the insurance sector to 49 per cent.

Former finance minister, Yashwant Sinha, opened this window during his conversation with Finance Minister P Chidambaram on Saturday.

This is not a new proposal and is BJP's way of ensuring that one foreign company does not get to dominate the Indian insurance sector.

Sinha argued that foreign direct investments and those by foreign institutional investors should be treated separately in the Insurance Bill -- because no single foreign investor should get a 49 per cent stake in an insurance company, reducing two or more Indian entities to a minority as they shared the remaining 51
per cent.
According to Sebi norms, no single FII can hold over 10 per cent equity in a firm and a sub-account of an FII cannot own more than a five per cent stake.
Also, FII money is considered volatile in an industry that needs stable long-term funds.
"The debate internally (in the BJP) is whether allowing FDI in a sector where only Rs 787,900 crore (Rs 7,879 billion) has flowed in, despite liberalisation, is worth the foreign control that could creep in," said a top BJP leader.
"The issue is: Should Indian insurance investment be propelled by foreign control or economic interest?"
BJP sources say the ball is now in the government's court.
Top sources indicate the government is not inclined to make a legislative provision for FIIs specifically, but it might have to accept BJP's conditions.
If it does so, the Insurance Bill will come up for clearance in the last week of the monsoon session, along with the pension Bill.
"I think, it will happen in the monsoon session," a BJP leader said. "Negotiations are on."