With the cricket World Cup mood building up, bookies and punters across India have taken their positions. Sources involved in betting, who did not want to be identified, fearing police action, estimate a turnover of about Rs 10,000 crore (Rs 100 billion).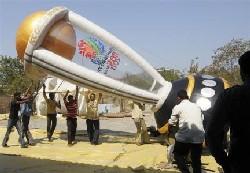 Mumbai, Delhi, Nagpur, Jaipur, Ahmedabad are hot destinations, apart from tier-II and III towns where betting is expected to be in full swing.

Bookies would prefer to operate from residences, hill stations, vehicles, office, hotels, resorts.

Sources said: "As of now, India is a favourite at Rs 3.25, while West Indies is at Rs 21 and New Zealand at Rs 20. However, these rates will keep changing as the final match nears."

"Bookies are adopting novel ways, wherein betting will be done for ball to ball, over to over, for the entire innings. If a punter is keen to put money for the entire innings, it will be termed 'Pari'.

As the players make runs and achieve the 150-mark, bookies will decide one rate and that will go on increasing after every 25 runs.

Further, there will be a lucrative rate after 12 overs," a source associated with the betting said.

Besides, if a punter bets on a toss for a particular team and also for its victory, it would be a double whammy.

"Say, for instance, if India wins the toss and the rate is 80 paise for Re 1. Similarly, if India wins the same match with a rate of 90 paise, the punter will gain in all Rs 1.70.

If a team wins the toss but loses the match, there will be betting at different rates," sources said. Punters would be assured of payment the day after the match.This apart, bookies among themselves would also do betting, known as "fancy betting." "Bookies put their money on players of different teams. One could select a batsman from India and another for one from Pakistan.

If an Indian batsman scores 90 runs and his counterpart from Pakistan scores 60 runs, the difference is 30. They decide the per-run rate, which runs into thousands. They also play for short 'pari', which is for limited overs."

Bookies are taking all possible precautions to avoid police action. They are expected to operate through at least three mobiles and a landline.

There are risks associated with betting, as bookies want an uninterrupted electricity supply. All the bets are recorded to avoid any dispute. After the innings, they verify all bets and confirm.

When asked, police sources said they are keeping a close vigil and would take due action against betting.

They have already gathered intelligence with regard to possible locations where betting would be possible.