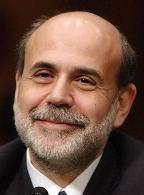 The US Federal Reserve chairman Ben S Bernanke has been named as the 'Person of the Year 2009' by the leading American magazine Time.
The 56-year-old Bernanke, who has been mainly credited for steering the ravaged American economy through the financial crisis, has been chosen from many finalists including US House speaker Nancy Pelosi and Jamaican athlete Usain Bolte.
In 2008, Time had chosen President Barack Obama as the Person of the Year. "... the main reason Ben Shalom Bernanke is Time's Person of the Year for 2009 is that he is the most important player guiding the world's most important economy.
"His creative leadership helped ensure that 2009 was a period of weak recovery rather than catastrophic depression, and he still wields unrivalled power over our money, our jobs, our savings and our national future," the magazine said.
The publication in a report published online, noted the story of the year was a weak economy that could have been much, much weaker. "Thank the man who runs the Federal Reserve, our mild-mannered economic overlord," it added.
According to the Time, Bernanke helped oversee the financial stress tests (on financial institutions) that finally calmed the markets, while launching a groundbreaking public relations campaign to demystify the Fed.
"Now that Obama has decided to keep him in his job, he has become a lightning rod in an intense national debate over the Fed as it approaches its second century," the report noted.