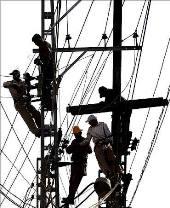 For the first time, West Bengal has recorded surplus power. West Bengal State Electricity Distribution Company Limited has surplus power of about 10 per cent.

"In the last one year, 30,000 million units entered our system and we sold about 3,000 million units.

"We either bank the surplus power outside or sell it to power exchanges," said Rajesh Pande, chairman and managing director, WSEDCL.

Through the next few months, surplus power might rise to 15-20 per cent, with hydel power projects set to see more production in the monsoon.

Officials in the power department said industrial demand (which accounts for 40 per cent of the state's power consumption) didn't rise last year, contributing to surplus power.

While the demand of domestic consumers grew 19 per cent in 2012-13, demand from the industrial sector increased a mere four per cent.

In the previous two financial years, consumption by the industrial sector had registered 10-12
per cent growth a year.
Malay De, principal secretary in the state power department, admits industrial demand has been low.
"The entire country is being hit by the industrial slowdown," he said.
The West Bengal government's draft 12th five-year Plan had projected a peak demand of 7,649 Mw in 2012-13, against the availability projection of 7,000 Mw.
De said 2,500 Mw of capacity was expected to be commissioned in the state by different power utilities, in next two-three years.
Capacity addition plans for the next few years include two WBPDCL units of 500 Mw each at Sagardighi, Durgapur Projects' 250-Mw project and two Calcutta Electric Supply Corporation units of 300 Mw each.
"The capacity addition would not help the state if the excess power is sold to power exchanges.
"Unless there is a surge in industrial demand, rise in domestic consumption would not be able to consume the additional capacity," said an official in the state power department.