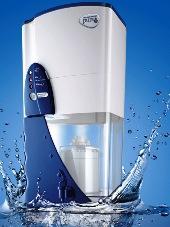 The Pallonji group-controlled Eureka Forbes had a solo run in the Rs 1,500-crore (Rs 15-billion) water purification market for long.
Then came fast moving consumer goods major Hindustan Unilever with its Pureit brand of water purifiers, changing the market dynamics forever.
Pureit was rolled out nationally in 2008 after undergoing rigorous test marketing for four years. In typical FMCG style, HUL was quick to scale up operations following the launch.
It has never looked back since then. Pureit sales are said to be close to 1.3 million units in comparison to Eureka Forbes's 500,000 units.
This is in the Rs 300-crore (Rs 3-billion) water storage market also called the non-electrical segment which is growing at close to 40 per cent per annum.
The other segment, electrical, is much larger in size, at Rs 1,200 crore (Rs 12 billion), but growing at about 15 per cent per annum. Products in the electrical segment are ultraviolet or reverse osmosis-based.
Typically, products here are higher-priced ranging from Rs 4,500 to Rs 9,000 for UV-based purifiers while RO-based products are costlier at Rs 8,000 - Rs 16,000 per device.
The storage segment, in comparison, is the entry point to the market, say experts, with products competitively priced at Rs 999 (for a Tata Swach) to Rs 1,000 (for a Pureit Compact) to Rs 1,390 (for a Eureka Forbes's AquaSure).
Higher priced variants also exist here such as Pureit Classic at Rs 2,000, Pureit Autofill at Rs 3,200 and Pureit Marvella at Rs 6,990.
Eureka Forbes, on the other hand, has a range that goes up to Rs 1,800 from the entry-level Rs 1,390, says the company's chief executive officer, direct sales, and senior vice-president, marketing, Marzin Shroff.
"But there are advantages that storage devices have. They do not require electricity; plus the storage aspect ensures there is no requirement of a continuous water line," says Vikram Surendran, general manager, water, Hindustan Unilever.
It is this affordability factor that is driving competition in the storage market pitting HUL and Eureka Forbes squarely against each other.
Though Surendran and Shroff decline to give market share figures, industry observers say HUL's Pureit has over 50 per cent share of the chemical sub-segment under the storage market.
Eureka Forbes, on the other hand, has a share of about 20 per cent. Tata's Swatch is a fringe player at this point.
Chemical, for the record, means that the storage water purifier uses either chlorine or bromine to purify water. HUL's Pureit uses a four-stage purification process involving chlorine and carbon, while Eureka Forbes's AquaSure uses brominated beads to purify water. 
According to industry experts, chlorine is one of the most commonly used chemicals to purify water though not necessarily the best method to do so on account of its ability to produce disinfection byproducts, which are harmful chemical compounds.
"Chlorine reacts quickly with contaminants that are naturally present in water. Bromine, in contrast, doesn't react as quickly as chlorine does.
"The risk of reaction is lower with bromine, which is why it is safer to use the latter as opposed to chlorine. Bromine-based technology is also far more expensive than chlorine-based," says Raman Venkatesh, chief technology officer, Eureka Forbes.
But there are some voices in favour of chlorine too.
J. Erik Fyrwald, chief executive officer, Nalco, a $4-billion US company specialising in industrial water treatment and energy solutions, says the flow of chlorine should be regulated in water to prevent it from causing disinfection byproducts.
"Most users of chlorine do just that. I don't think a user would want to cross the permissible limit," he says.
HUL's Surendran agrees as much. "There are some absolute standards of safety that a water purifier has to adhere to. That's what we do.
"These standards are prescribed by the US Environmental Protection Agency. They are stringent. We meet them. Technology, let me tell you, is a means to deliver safety. It is not a goal in itself. Whether you use chemical or non-chemical, UV or RO, the point is safety has to be delivered."
But Eureka Forbes thinks otherwise. The company has just launched a new Rs 2,290 variant of AquaSure that does not use chemicals at all to purify water.
"Instead it uses a complex maze of positive charge attractors that trap disease-causing bacteria, virus and cysts," says Venkatesh.
"This is a product targeted at those who realise that use of chemicals to purify water is not the most appropriate way to do so. Our research has showed that. We have been working on this product for the last seven years. We have launched it now," says Shroff of Eureka Forbes.  
In little over a month since the launch, the product, says Shroff, has achieved sales of 22,000 units.
"We are hoping to touch sales of 50,000 units per month. For that we would have to scale up availability of the product as well. We right now reach 15,000 retail outlets in 1,500 towns.
"The game plan is to reach 25,000 retail outlets in the same number of towns. This way there's a greater chance of increasing offtake," he says.  
But is HUL impressed with its rival's efforts to push a non-chemical water purifier in the market? Is a shift likely to happen from chemical to non-chemical in the future?
"I will not comment on what competition is doing," says Surendran.
"As far as our entry into the segment is concerned, it is contingent upon whether it offers safety and clear consumer benefits. Technology, as I said earlier, is not an end in itself. It is a merely a means to deliver safety."
The Best Business Specials