HSBC's plan to sell stake in its Indian life insurance joint venture (JV) with two public-sector banks has run into rough weather. State-owned Canara Bank and Oriental Bank of Commerce (OBC) - the domestic partners - intend to oppose the proposed deal, as they are miffed with HSBC's decision to sell stake without consulting them.
Sources familiar with the matter said the two Indian banks were unhappy that HSBC, which runs the operations of Canara HSBC OBC Life Insurance, approached prospective buyers without seeking their opinion, even as the JV shareholding agreement contains 'tag-along rights'.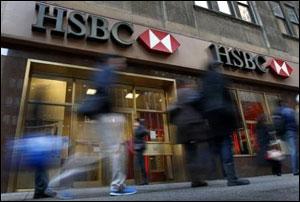 The clause, which gives shareholders the right to be part of a sale transaction if one decides to sell stake, was inserted in the shareholding agreement when the JV was formed. So, the prospective buyer will have to offer Canara Bank and OBC similar terms as it offers HSBC in the deal.
Sources said the public-sector lenders were yet to get a formal proposal on sale from HSBC. Responding to an email query on the matter, an HSBC spokesperson said: "We do not comment on rumours/speculation."
If the tag-along right is exercised by the two state-owned banks, it could scupper HSBC's plan of a smooth exit at premium valuations. It would be impossible for a foreign firm to buy out HSBC's stake as regulations do not allow more than 26 per cent foreign direct investment (FDI) in an insurance company. Alternatively, Canara Bank and OBC could ask for share in HSBC's stake-sale proceeds, said a person familiar with the matter.
"If the deal happens at steep valuations, Canara and OBC will look to extract their pound of flesh," he said. "Because the selling point in the deal for HSBC is the banks' network." Canara has 3,723 branches and OBC 1,930.
According to Reuters, Canada's Manulife Financial Corp is in race for HSBC's stake in the JV. Valuing the life insurance firm at $800 million (Rs 4,000 crore), the HSBC stake could be worth about $200 million (approximately Rs 1,000 crore), the agency said.
If the prospective buyer is a domestic firm with a stake in an existing life insurance business, it would have to buy out the entire entity and merge it with itself. This is because no company could hold stakes in more than one domestic life insurance firms.
Sources said domestic firms, however, might be averse to paying premium valuations without an exclusive distribution pact with the banks, as the Budget has allowed banks to sell products of multiple insurance firms.
Canara HSBC OBC Life Insurance's first-year premium collection fell 23.3 per cent in the April-February period to Rs 436 crore, whereas private-sector life insurers saw a dip of 5.5 per cent. The Indian life insurance industry saw its new premium collections falling six per cent in the first 11 months of 2012-13.