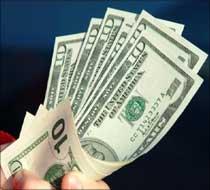 The proposal to allow foreign airlines to pick up stakes in domestic carriers may become a reality soon.

The Department of Industrial Policy and Promotion under the commerce ministry has floated a draft Cabinet note for inter-ministerial discussions on foreign direct investment in aviation.

It has received the civil aviation ministry's nod to go ahead with the proposal.

After consultations within the ministries concerned, DIPP will put up the note for consideration by the Cabinet Committee on Economic Affairs.

Domestic airlines have not seen any fresh investment coming into the sector for a long time due to strict FDI rules.

DIPP has argued foreign airlines may be allowed to pick up 26 per cent stake.

The civil aviation ministry asked for the cap to be 24 per cent or below.

"Foreign airlines will not come if the cap is below 26 per cent as they will not be able to have their say in management matters.

Private equity players are not interested anyway, as it is too uncertain a sector.

The cap should be 26-49 per cent," a senior DIPP official told Business Standard.

The
official said the note could be forwarded to the CCEA within a fortnight.
According to the present norms, 49 per cent FDI is allowed in airport infrastructure-related projects but there are restrictions on foreign investment in domestic airlines.
If the proposal goes through, domestic carriers like Jet Airways, Indigo, Spicejet and Kingfisher Airlines would get a fresh lease of life.
The aviation ministry had earlier said investments worth $30 billion were required in 15 years for the industry to keep up with the booming passenger and cargo traffic requirement.
Currently, 12 greenfield airports are being developed across the country to make India a global airlines hub.
A total of 142 million passengers checked in and out of airports across the country during 2010-11, marking a growth of 15 per cent over the previous year, according to Assocham.
According to conservative estimates, passenger traffic is likely to be around 540 million by 2025 as the fleet size of scheduled airlines increases to 1,500 from 430 now.
At the same time, cargo traffic is expected to touch nine million tonnes from 2.33 million tonnes in the last financial year.