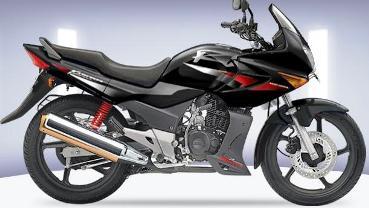 Despite robust demand, rising competition and higher costs could put pressure on market share and profitability.

The Street has welcomed the sustained demand and higher sales for two-wheeler makers in September by pushing up stock prices of the three key companies by three to seven per cent over the past week.


Record operating profit margins in the region of 16-22 per cent and a more than 25 per cent growth in volumes for the April to September period for the sector has also attracted new competition.


While Mahindra & Mahindra launched two motorcycles, the 110cc Stallio and 300cc Mojo last week, other new launches and variants are expected from existing players over the next three to four quarters.


M&M entry


Does M&M's entry into a market which some say is saturated make sense? It does from the company's point of view, believes Vineet Hetamasaria, vice-president, research, at PINC, because of the low-cost entry (it paid Rs110 crore or Rs 1.1 billion for acquiring Kinetic's assets), increasing capacity utilisation since the acquisition (pegged at 70 per cent), common raw material procurement benefits, dealership network and a strong brand name.


Borne out by its successful launch in the scooter market.


Despite the aggressive pricing of the Stallio, the impact in the short run will be limited, but if M&M can establish a brand in this space (as Hero Honda has done with Splendor and Passion, and Bajaj with Discover and Pulsar), it can give the larger companies a run for their money, especially in the executive segment.


As many as six new bikes have been introduced in this segment (65 per cent of motorcycle volumes) over the year and a half since the launch of Bajaj's Discover in July 2009.


While competition will intensify if Honda were to split from the Hero group and go all out for additional market share, the expanding market seems to be a source of comfort for existing players.


Growth on track


India's three largest two-wheeler companies, with over 80 per cent market share, have grown their volumes by about 25 per cent during April-September as compared to the year-ago period.


A large part of this growth has come about due to Bajaj Auto (60 per cent) and TVS Motors (30 per cent) on a low base and jump in demand. Hetamasaria believes the motorcycle segment will grow at a compunded annual rate of 12-13 per cent over the next five years.


This, analysts believe, should be enough to sustain the number of players operating in the market as the war of volumes shifts out of cities to semi-urban and rural space.
While new launches would boost growth, margins could come under pressures


Margins


Analysts feel raw material costs and competitive pressures will mean that companies may witness a drop in margins if they are to maintain or increase their market share.


The leading players are cash-rich and a price war later during the year cannot be ruled out.


With 100 per cent capacity utilisation currently (Hero Honda, Bajaj Auto), saya analysts, it will not make sense to cut prices, as higher demand cannot be met. But once expansions are completed over the next one year, expect a round of price cuts as companies try to protect market share.


Valuations


With its two-wheeler business expected to break even in 2011-12 and continuing dominance in tractor and utility vehicle space, analysts are bullish on the Mahindra & Mahindra stock.


However, the recent run-up in prices (17 per cent over one month) has meant there is marginal upside from these levels. Buy on dips.

For the other major two-wheeler makers, analysts expect a fall in margins due to higher commodity costs for the September quarter but believe that on an annual basis, Bajaj Auto, Hero Honda and TVS Motors would be able to sustain operating profit margins in the region of 20 per cent, 17 per cent and eight per cent, respectively.


While the recent surge in prices of Bajaj Auto and TVS Motors means there is little room for upside and you can look at these stocks on dips, analysts advise investors to avoid Hero Honda for the moment.