Japanese carmaker Nissan on Tuesday said it plans to sell 100,000 vehicles in India by 2013, for which it will launch nine models in the next two years, including the sedan version of its latest compact car Micra - slated to be available in the country by July.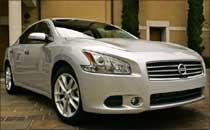 In order to achieve the sales target the company will enhance its dealership network to 82 by 2013 from eight at present.
"Our target is to sell one lakh units in India by 2013," Nissan Motor India Pvt ltd MD and CEO Kiminobu Tokuyama told reporters a day ahead of the inauguration of a manufacturing plant developed by the Renault-Nissan alliance.
On increasing the number of dealers, he said, "We will have 82 dealers by 2013 from 8 dealers currently."
The company, which sells only imported models like sedan Teana and SUV Xtrail in India, will launch nine models by 2012, of which five will be locally produced and four will be completely built unit imports, he said.
"The second model in 2011 will be a sedan based on V-platform, on which Micra is built and the third will be a multipurpose vehicle on the same platform in 2012," he said.
Tokuyama said India will be a key export hub for Nissan, shipping both CBUs as well as parts.
"For CBUs, exports target is 110,000 units by 2011 to over 100 countries and it will rise further to 180,000 units later on," he said, adding that the firm will also export components to its other plants in China, Thailand and Japan.
"Our target is to export products worth USD 20 million in 2010, and worth $30 million and $40 million in the subsequent years," Tokuyama said.
The Renault-Nissan alliance will open its manufacturing plant here tomorrow. The facility has been set up with an initial investment of Rs 2,900 crore (Rs 29 billion) with a capacity of 200,000 units that can be scaled up to 400,000 units.
As per an MoU with the Tamil Nadu government, the alliance will invest Rs 4,500 crore (Rs 45 billion) by 2015.
Renault Nissan Automotive India Pvt Ltd CEO and managing director Akira Sakurai said the plant will start mass production of Micra from May.
"We will produce 80,000 units in the first year. These will be for both domestic and export markets," Sakurai said.
Nissan will export Micra to over 100 countries, including Europe, Middle-East and Africa, by later half of 2010.
"Micra will also be produced from Thailand, Mexico and China. In India, our rival will be Maruti's Swift, Hyundai's i10 and i20. We will launch the Micra with 1.2 litre petrol engine. We are targeting 85 per cent localisation," he said.
Sakurai said Micra in India will be more competitive than Thailand, China and Mexico and cars exported out of India might be priced lesser than those made in other countries.
He said the firm expects full capacity utilisaion by 2012 and is unlikely to go for 400,000 units before 2012. The plant currently employs 1,200 people and will increase the strength to 3,000 by 2012.