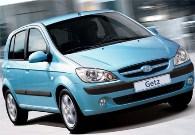 India's second largest car maker, Hyundai Motor India, is planning to phase out its hatch-back Getz and focus on its other small car i20.
"Getz is to be phased-out gradually. We will stop production of Getz at our Chennai plant," HS Lheem, managing director, Hyundai Motor India said on the sidelines of the SIAM annual convention.
He, however, did not give any specific time frame for the final phase-out of the car. "We will focus more on the i20 which will replace the segment of Getz," he added.