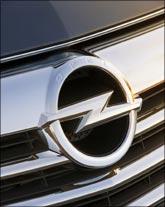 US automaker General Motors' chief executive has apologised for the company's handling of the failed sale of its subsidiary Opel to Canadian manufacturer Magna and Russian investment bank Sperbank.
GM CEO Fritz Henderson expressed "deep regret" for shocking the nation and provoking outrage among government leaders, trade unions and Opel workers by an unexpected announcement last week to cancel the deal and instead to keep Germany's second largest car manufacturer under its fold.
"It was not our intention to surprise anybody, although now we know that we have done that. We deeply regret it," he said in a German television interview.
His comments came after the German Chancellor Angela Merkel sharply criticised the company for cancelling the sale, which was supported by Germany's government as the best option for saving a major part of around 25,000 jobs in the country.
"For months, the General Motors was not in a position even to nearly fulfil its responsibility towards Opel," Merkel said in her first comment on the aborted deal yesterday in the Bundestag, the lower house of parliament.
"I extremely regret the decision by the General Motors," the chancellor said.
The proposed sale of Opel to Magna was preferred by the German government because Magna had promised to keep all four production locations in this country and to lay off a maximum of only 2,600 German workers.
The German federal government and state governments paid Opel a bridging loan of 1.5 billion Euros in May when it looked certain that Magna would buy the company.
Merkel demanded from GM leadership a "concrete solution" which will secure Opel's jobs, know-how and production locations in Germany. "Such a solution can function only when the GM finances a major part of Opel's restructuring with its own resources," she said.
Henderson, currently on a visit to Germany to mend relations with Opel's workers and management, said GM changed its plans to sell Opel because the situation has "clearly changed" for the parent company, especially in the last two months.
GM also wanted to restore its credibility and to repair its relations with its workers in Germany and in other European production locations, he said.
"It is about winning back the confidence of our workers and there are different ways for doing that and we have already taken the first steps in that direction," he said.
He visited Opel's main production location in Ruesselsheim, near Frankfurt, and held talks with the workers's council on the restructuring plans.
Henderson said it was inappropriate to talk now about how many jobs in Germany will be shed or if any of the four Opel production locations will be closed as part of restructuring.
"What is important now is to enter into dialogue with the representatives on the company's workers' council and to reach a solution with their involvement," he said.