Even as it is struggling to run its existing plants at half their capacity, due to dwindling sales, Ford India is pressing ahead with its Rs 4,000-crore vehicle and engine plant in Gujarat.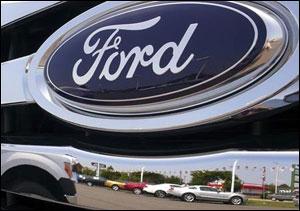 "The plant is absolutely on track; there is no delay," said Sriram Padmanabhan, vice-president (marketing), Ford India, when he unveiled the EcoSport, a compact sports utility vehicle (SUV), to be launched around June.
Padmanabhan said the Gujarat plant will commence operations next year. The new plant will more than double Ford's total vehicle production capacity. When it becomes operational, the plant will add 240,000 vehicles to Ford's current capacity of 200,000 units a year. It will also add 270,000 engines to the current tally of 330,000 units a year.
At present, the firm is facing the brunt of downturn in the domestic market with sales plunging 14 per cent at 71,954 units during the April-February period in FY13, compared to the same period in FY12. During the same period, the passenger vehicle industry grew four per cent.
With no revival in domestic sales expected before the second half of FY14, Ford India is banking heavily on new products and the export segment to move its products. So far this year, the company has seen a growth of 21 per cent in exports at 27,088 units, compared to the same period last year. Currently, one in every four cars produced at the Chennai facility is exported.
The company is lining up an array of new launches, too. At least seven new products are to be added by 2015 including the EcoSport. Ford hasn't divulged the price of the five-seater. It said it will only disclose EcoSport's price details closer to the launch.
Ford could have launched EcoSport as a small car and priced it competitively, but for a change in the definition of small cars and SUVs in the latest Budget. According to it, small cars are vehicles with engines of less than 1,200 cc (petrol) or 1,500 cc (diesel) and less than 4,000 mm in length. Cars with ground clearance of 170 mm and more will be classified as an SUV, which will attract higher duties.
EcoSport meets all parameters of a small car except ground clearance. Therefore, it risks being classified at a full-fledged SUV and levied an excise duty of 30 per cent, instead of 12 per cent for a small car.