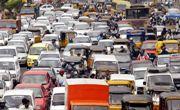 Domestic car sales increased by 23.09 per cent to 1,72,459 units in October 2012 compared to 1,40,105 units in the same month last year.

According to the data released by the Society of Indian Automobile Manufacturers, motorcycle sales last month went up by 6.71 per cent to 9,36,122 units from 8,77,270
units in the same month previous year.
Total sale of vehicles across categories registered an increase of 14.81 per cent to 16,53,703 units last month as against 14,40,409 units in October 2011, it added.