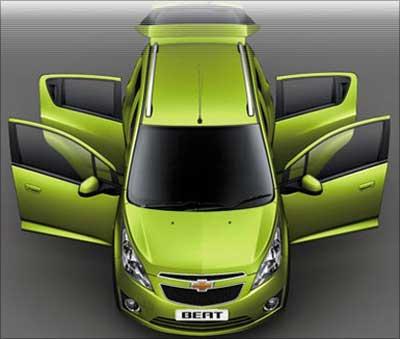 The General Motors India would launch this month its new version of Chevrolet-Beat, one of their popular vehicle in mini cars segment fitted with locally developed state-of-the art SMARTECH engine, a top company executive said in Thiruvananthapuram  on Friday.
Talking to reporters after the launch of 'SMARTECH' engine, General Motors India president and managing director Karl Slym said diesel version of the vechile was also be out later this year.
On the expansion programme of the company, he said GM India plans to introduce Light Commercial Vehicles by the end of this year or early next year.
The Halol Plant at Gujarat with an installed cannual capacity of 85,000 units was presently undergoing capacity expansion,
he said.
The plan was to increase the annual capacity to 100,000, he added.
Referring to the SMARTECH engine, he said the 1.2 litre engine was created by the GM Technical Centre-India in Bengaluru in co-operation with GM's new engine plant in Talegaon, he said.
GM India has registered a growth of 60 per cent last year when India's total automobile sector made a growth of 30 per cent, he said.
GM India has invested more than Rs 5000 crore (Rs 50 billion) in India till now and was deeply committed to this market, its customers and all its stakeholders', he added.
Text: PTI | Image: Chevrolet-Beat