Cars are getting more and more advanced with time. Carmakers are offering a plethora of sophisticated features for high end models like DVD players, dashboard computers, GPS tracking, bluetooth technology et al.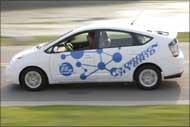 But what has escaped the notice of general public is that these advanced electronic gadgets especially too many of them together create strong electromagnetic fields that upset some drivers and have side effects.
Car manufacturers and buyers globally are trying to reduce fossil fuel dependence and shifting focus on electric cars and hybrids. But these 'supposedly green' vehicles emit electromagnetic radiations that are way above comfortable levels.
These high electromagnetic radiations have caused side effects like excessive drowsiness, headaches, neck pain, anxiety, heart palpitations, ringing in the ears, brain fog and irritability in many drivers.
Electric cars and hybrids run on electric batteries, which emit high levels of electromagnetic radiations that have just started to come to notice. Some cars emit radiations as high as 4mg (milligram), which is quite high, especially for children.
An article in New York Times claimed that some hybrid owners actually tested their cars for electromagnetic fields with the help of hand-held meters, and a few say they are alarmed by the results.
In the United States cars like Toyota Prius and Honda Civic Hybrid have come under such scrutiny with a few owners complaining. However, nothing has been established scientifically as yet as these threats have just surfaced and the debate is just about getting started.
Also, the carmakers have said that there is no danger to passengers in their cars. A NYT article had quoted Jim Kliesch, a senior engineer for the clean vehicles program at the Union of Concerned Scientists, "It would be a mistake to jump to conclusions about hybrid EMF dangers, as well as a mistake to outright dismiss the concern. Additional research would improve our understanding of the issue."
But with a number of electric and hybrid cars hitting Indian car market it becomes a matter of concern for the Indian buyer as well. The rules and regulations in India are not as stringent as that in western countries. So, it would be advisable for potential hybrid and electric car users to see if their bodies adapt well to all the high electromagnetic radiations or not.
Even then until the facts are scientifically established it would continue to haunt the drivers who have to spend hours behind the wheels of their hybrid and electric vehicles.
Powered by


CarDekho.com offers the best platform in India to research cars online. Make better car buying decisions using features like car research, reviews, car comparisons, discounts, on-road prices etc. on CarDekho.com.